Why and how TWN implemented Insight - Asset Management plugin?
If previously we have introduced Insight – Asset Management plugin, then in today's blog post we will study from the involved parties how it was implemented in TWN. 
In addition, we will introduce ScanStar application compatible with Jira and Insight that enables even more innovative asset management. 
As the organization grows, the need for a structured database grows 
"Today we use Insight for asset as well as HR management," says TWN's office manager Nadežda Videvik. 
The office manager acknowledges, that the previous solution for asset management lacked in effectiveness. "At the beginning Excel spreadsheets covered our needs, but with more information on table, the more complicated the asset management became," she adds.   
According to Nadežda it also became essential to have all additional information related to assets (receipts, users, warranty etc) and personnel (location of the office, birthday, door card number etc) in one instance to find it fast. 
Asset management from Excel to Insight 
The implementation of Insight started with creating a Proof of Concept (PoC). "With PoC it became clear which fields we need and what is moved to the new instance" says TWN's Atlassian consultant Urmo Luts.  
The implementation was carried out in co-operation with the office managers. "After organizing data in Excel we created structure for the data in Insight, carried out some additional improvements and moved the inspected and refreshed data from Excel to Insight," he adds. 
Pilt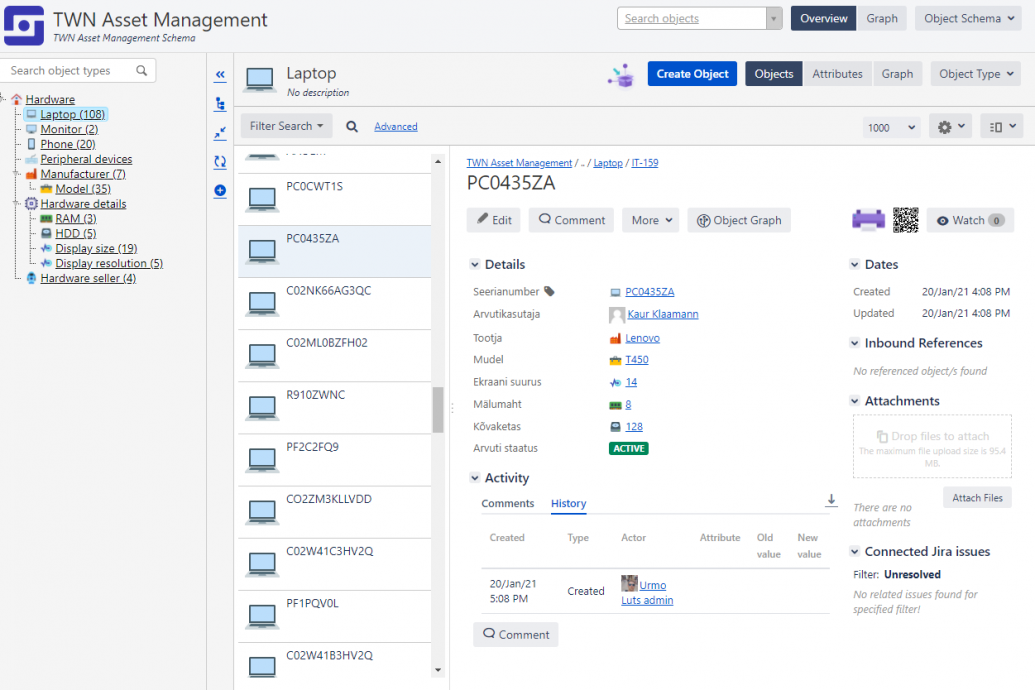 TWN asset structure in Insight.
"With Excel we lacked in confidence as with a shared workbook some data could go missing. Insight ensures us safe data management," says TWN's office manager Helen Pink.   
Complete overview of your assets enables operative actions in Insight
Insight enables you to create connections between different assets. According to Nadežda it is good to get an overview if some devices are getting old and need to be exchanged. 
"If anything happens with a device we find all the necessary information within one instance – this way we can resolve problems fast," specifies Nadežda. 
"The possibility to set reminders saves us a lot of time on manual search – e.g. we have set an automatic reminder to keep us on track when a person's work trial is coming to an end," says Helen.
Besides Jira Software it is possible to integrate Insight with Jira Service Management service portal.
"Often the same devices (assets) are used. If the data already exists in Insight there is no need to manually duplicate it. And if needed, it is possible to create automations, that add additional information to the asset from external databases (Excel, CSV) or which notifies the assets manager about the upcoming end of life for an asset," explains Urmo.
Innovative asset management with ScanStar 
ScanStar is an mobile application for IT service management tools that among other, is also compatible for Jira and Insight.
Scanstar enables to scan a devices' serial number and insert it straight to Insight which makes the process much more fast and convenient.  
"With ScanStar there is no need to type each serial number manually, therefore the risk for potential human error is eliminated, '' says Urmo. 
Pilt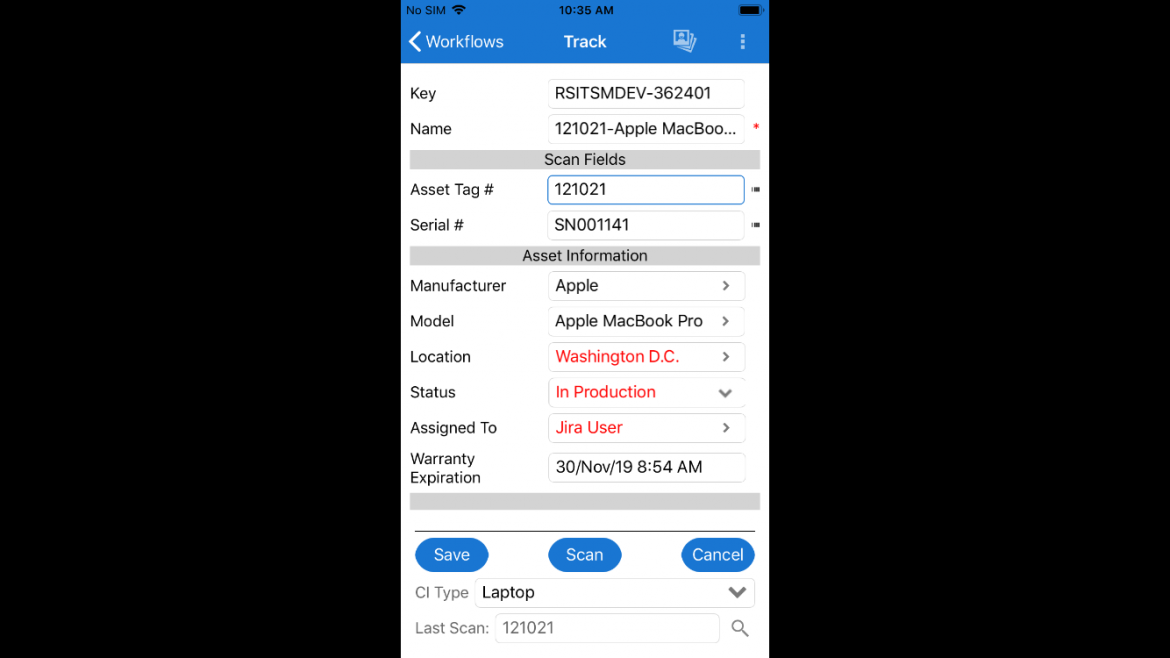 ScanStar mobile view.
ScanStar is good solution if you have many assets to manage on the go and they are in different locations. ScanStar is also good option for inventories as bulk editing large amount of data is fast and more effective through an application.
Insight – Asset Management on Cloud and Data Center  
From 31st of March 2021 Insight is included in Jira Service Management Premium and Enterprise Cloud plans for no extra cost.
From 2nd of February 2021, Insight Asset Management and Insight Discovery plugins are bundled with Jira Service Management 4.15 Data Center.
Regarding the changes on Atlassian Server platform, it is no longer possible to purchase Insight plugins for Server any more. 
Do you need some more information about Insight – Asset Management? 
If you are using Insight – Asset Management for the first time and you need some additional information or help, do not hesitate to contact us; we provide consultation and can help with everything regarding Atlassian products and plugins.
You can find more information about our services here.