Changes regarding the end of sales for Server platform
Server platform end of sales and support
In October Atlassian introduced a journey for the following years regarding the end of support for Server platform. A detailed timeline for the upcoming changes: 
from 02.02.2021 end of new Server license sales 
from 02.02.2022 end of upgrades and downgrades for user tiers 
from 02.02.2023 end of new app sales for existing licenses  
from 02.02.2024 end of support for Server platform
Pilt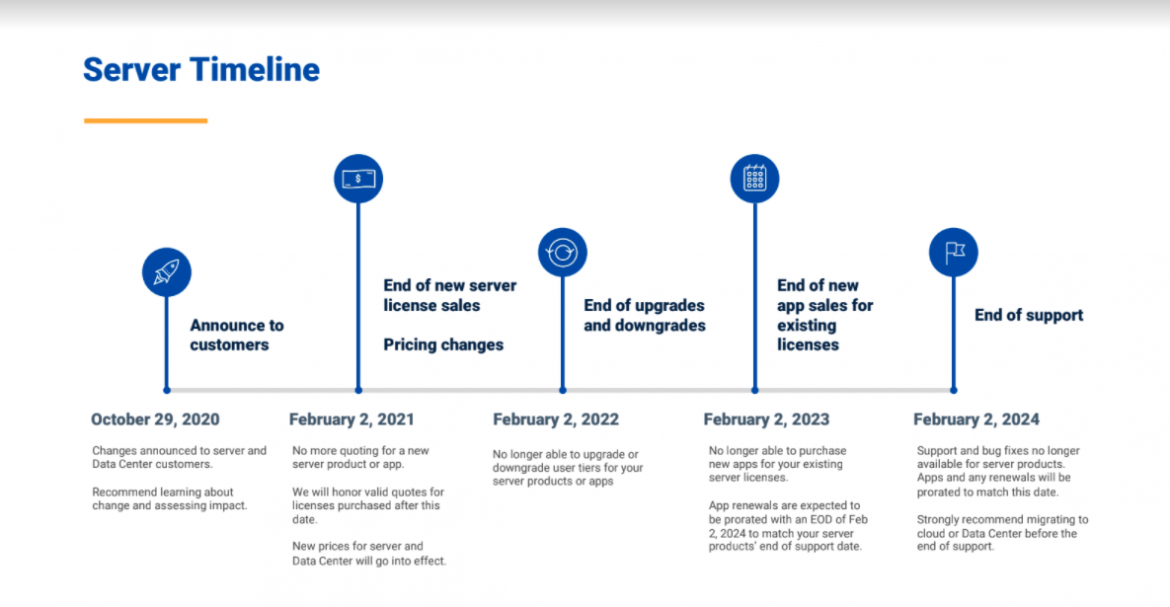 Timeline regarding the end of support for Server platform
Due to the changes we recommend you to check the options for your platform and consider migrating either to Atlassian Data Center or to Cloud platform.
Data Center – high availability alternative to Server
Unlike with Server solution, Data Center platform offers an option to set up your database to connected cluster nodes; load balancing minimizes the risks for possible system failures and downtimes. Data Center platform is suitable especially for delicate data that requires on-premise nodes and self managed maintenance.
The user tiers for Data Center platform start higher – if for the Server solution it was possible to buy products for 10 users then the minimal user tier for Data Center Jira and Confluence is 500 users (Jira Service Desk 50 agents).
Cloud – convenient solution for growing organizations
As a Cloud First company, Atlassian offers convenient and quick solutions to growing private sector enterprises; it is possible to join with Atlassian Cloud Free plan with a team up to 10 users/3 IT agents, whose data storage needs are covered with 2GB. SaaS solutioned Cloud platform is a great way to save from server and maintenance costs.
Atlassian reports the popularity of Cloud among their customers has grown 60% over the years. For organizations with delicate data, Cloud Enterprise plan offers an opportunity to choose the region for data residency: APAC (Singapore and Sydney), EU (Frankfurt and Dublin) or US (US east and west).
Which solution is best for your organization?
It is clear that each organization requires an individual approach depending on their size and expertise. There is no one and only right way that would be suitable for all. The experts in Trinidad Wiseman are ready to find the best custom solution to meet your organization needs. We will help you plan and migrate from one platform to another while guaranteeing a final error free solution. Need help migrating? We've got your back, more info here.