Jira Service Management - next generation helpdesk tool
At the end of last year Atlassian introduced the next generation of the popular Atlassian Jira Service Desk - now Jira Service Management.
In addition to the core features (such as a request portal, service catalog, queues, SLAs, and more) the initial release of Jira Service Management includes more in-depth change management as well as incident management capabilities (with the inclusion of Opsgenie) in all Cloud Editions.
As follows, we will introduce the newest Jira Service Management options. 
What are the new features included with the new Jira Service Management product?

Modern incident management, powered by Opsgenie: 
on-call scheduling, alerting, incident swarming, are just some of the Opsgenie features available in all cloud editions of Jira Service Management. 
deeper integrations with Jira Software, Bitbucket and Confluence, so you can seamlessly orchestrate the end-to-end incident resolution process across development and IT operations teams.
Change management, built for the DevOps era: 
make smarter decisions around changes to services, with richer contextual information–from both your software development as well as infrastructure-related tools. 
innovate faster with automated change risk assessments, advanced approval workflows, and deep integrations with popular CI/CD tools like Bitbucket Pipelines, Jenkins, and CircleCI.
Intuitive and amazing service experiences:
Atlassian has redesigned the agent experience to better categorize service requests, incidents, problems and changes.
You can leverage new features like bulk ticket actions and machine learning capabilities to intelligently categorize similar tickets, and take action quickly.
What new ITSM features will be part of Jira Service Management?
new ITSM project template - includes service request, incident, change, and problem ticket queues out of the box.
bulk Actions (this is available across all projects) – link, comment, assign, transition, delete.
service registry - the service registry is where IT teams will register all the technical services they operate. This serves as a lightweight CMDB to provide more context for changes.
Pilt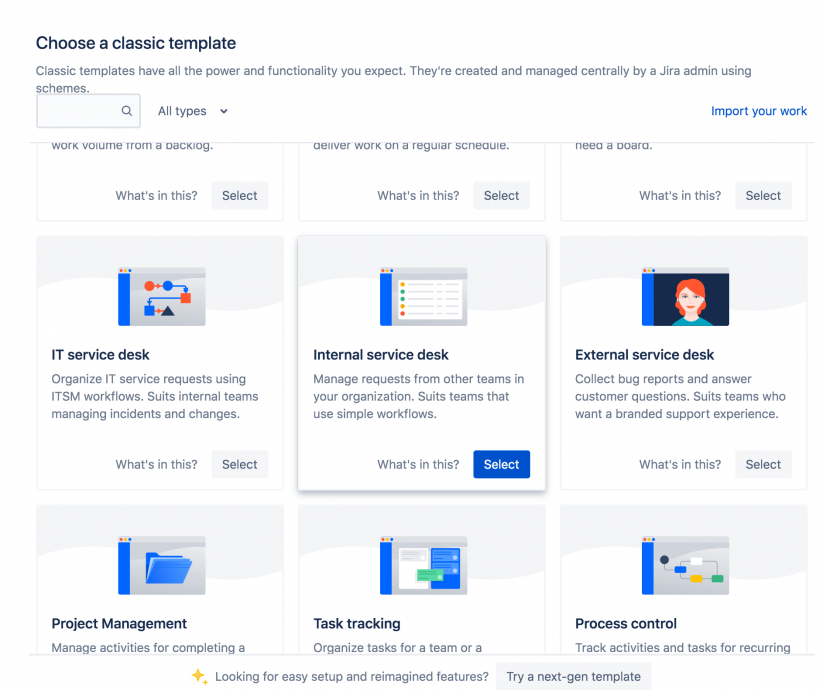 New ITSM project templates in Jira Service Management.
Service and asset management with Insight
From 2nd of February 2021, Insight Asset Management and Insight Discovery plugins are bundled with Jira Service Management 4.15 Data Center .

Unfortunately, it is not available to purchase Insight plugins for Server platform any more.  
During March-April 2021 Insight will be bundled with Jira Service Management Cloud Premium and Enterprise plans for free. We take a closer look at Insight in our next blog post.
What new incident management features will be part of Jira Service Management?
the ability to escalate an incident to a major incident in Opsgenie (which can then send alerts and notify the correct team(s) to quickly swarm and resolve the incident).
the ability to create a major incident in Opsgenie from an existing incident in Jira Service Management.
the ability to link an incident in Jira Service Management to an existing incident in Opsgenie.
plus all additional functionality included as part of Opsgenie.
What new change management features will be part of Jira Service Management?
the ability to set group approvals for a change request in service registry services.
integration with Bitbucket to control deployments via change management approvals.
automated change intake from deployment tools - Bitbucket Pipelines, Circle CI, Jenkins.
new affected services condition that leverages Automation for Jira to be the risk assessment and change policy engine for change management. There will also be sample rules provided out of the box to streamline set up.
integration with Jira Software and Bitbucket to allows for automatic change record creation.
Are these new features also available on Data Center?
Yes, Jira Service Desk Data Center will also become Jira Service Management starting in 4.14 release.
The new incident management features and integration with Opsgenie are available in Server and Data Center, but only with a separate purchase of Opsgenie (as opposed to Cloud where Opsgenie is included with Jira Service Management).
Do you need some more information about Jira Service Management?

If you are using Jira Service Management for the first time and have any additional questions, don't hesitate to contact us; we provide consultations and can help with everything regarding Atlassian products. More info here.