Atlassian Team '21 digital conference product news
At the end of April Atlassian organized a two-day digital conference Team '21. Team '21 was carried out to introduce new Atlassian products, changes to existing products as well as Point A program.

Sounds exciting? Let's take a closer look!
Jira Core developed into Jira Work Management
Jira Work Management (JWM) is a structured work management tool in Cloud for organizations to plan and track work across teams and projects within a highly-configurable, well-defined framework.

Jira Work Management connects effortlessly with Jira Software and Jira Service Management, allowing for task dependencies across products and compatibility with features like advanced roadmaps. 

After April 28th, 2021, every new and existing cloud-based business project received the new Jira Work Management features. It will not change any existing configuration settings or data.
 
What are the differences between Jira Software and Jira Work Management?
Jira Work Management was designed with business teams in mind — teams like marketing, HR, finance, legal, design, sales, and operations. Jira Work Management includes new features such as:
 
24 business project templates for marketing, HR, finance, operations, design, legal, and sales teams, as well as for individual work;
a list view with in-line editing;
a calendar view;
a timeline view that supports all issue types and displays data on the bars themselves for an intuitive experience;
lightweight forms that can be designed in seconds with drag-and-drop functionality;
14 project background colors.
Jira Work Management does not currently have scrum capabilities such as sprints, and it will not include features like code, pipelines, and backlog.
 
Pilt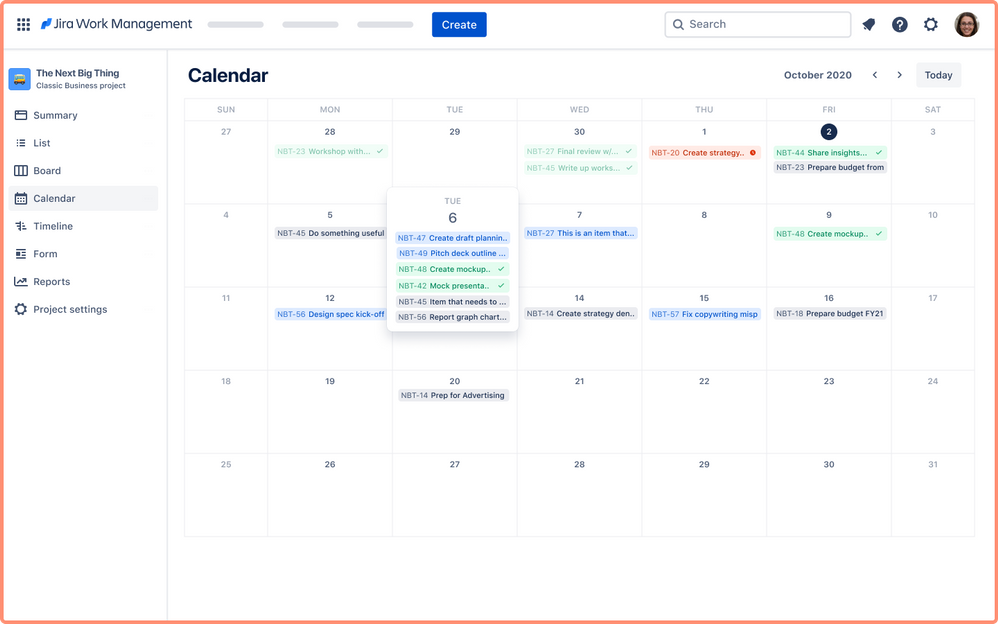 Jira Work Management calendar view.
Jira Work Management hosting options
For now, Jira Work Management is a Cloud only product; Atlassian will not release Data Center variations of Jira Work Management. 

However, Atlassian just announced that data residency will soon be included for no extra charge with all paid editions of any Jira Cloud product, including Jira Work Management.
Point A program - ideas become into products
In Atlassian history, Point A is an innovative approach to product development, meaning that each Point A product evolves in co-op with customer feedback and development teams.

The three following products are currently available by joining the waitlist.

Jira Product Discovery ALPHA 
Jira Product Discovery is the new product management tool for agile teams.

It helps product managers build what matters by serving as the place to capture insights and opportunities, and engage teams around product plans – from discovery through delivery.

Jira Product Discovery Alpha is only available for Jira Software Cloud customers.
Team Central BETA 
Team Central enables communication between teams, giving other teams and stakeholders a high-level summary view of how your projects or goals are tracking.
 
one place to go for every update from project progress to goal tracking to team health;
a shared operating rhythm among teams so that information is shared reliably and consistently (with automated reminders);
more context and less characters so that writing, reading and reacting to updates is as engaging as your favorite social network.
Compass ALPHA 
Compass helps software development teams realize the benefits of distributed architectures.
 
Compass seeks to guide organizations through the challenge of sprawl: the ever-growing mass of output that a modern, distributed software architecture generates;
connects teams, software components (services, APIs, documentation) and insights in one place;
modeled after a tool Atlassian built for their own internal use as an attempt to solve these problem for themselves. 
 
Pilt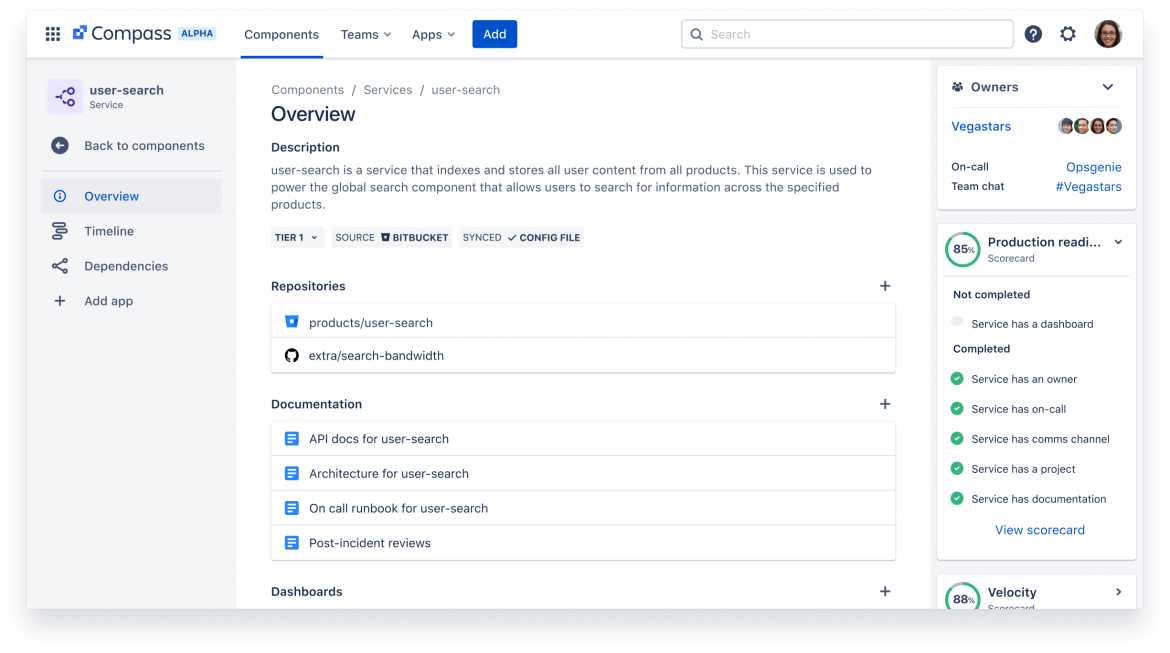 Compass ALPHA component overview.
Atlassian Open DevOps  
Open Devops (previously "Starter Kit") is the newest launch from the DevOps solution program, and a huge step towards Atlassian's goal of getting software teams into a connected state with Jira as the backbone. 

New pre-configured DevOps project in Jira combines Jira Software, Confluence, BitBucket, Opsgenie, Jira Service Management and many partner tools like GitHub ja GitLab.
 
provides an easily configured toolchain from Jira;
less status updates for devs, better project tracking for project and product managers as well as better insight for ops teams and downstream stakeholders;
more choice for tooling - users can sub in the default tools with the tools their developers want to use.
Product updates
Jira Service Management  
Jira Service Management brings Dev, IT and business teams together to deliver exceptional customer and employee service experiences at high velocity.
 
deliver value fast: Atlassian is making investments in an self-service portal, a no-code/ low-code forms builder that includes 300+ pre-built templites and conversational ticketing capabilities (via the Halp acquisition) to do that.
visible work: as said before, Insight for Asset and Configuration management is now included in Jira Service Management. IT support and operations teams now have a visual map of all the business services and assets, and their dependencies on other services and infrastructure. 
accelerated Dev + Ops flows: Atlassian is continuing to make investments in deeper incident and change management capabilities. This helps your Dev and IT teams respond to changes and resolve incidents faster.
 
Atlassian Access  
Now an Atlassian Access org Admin can set multiple authentication policies to apply to different subsets of users in their organization. 
Org admins can use an authentication policy to test their SAML (security assertion markup language) configuration by enabling SSO (single sign on) on a small subset of users before rolling it out to the whole organization.
 
Trello 
Atlassian is building a Whole New Trello, built for increased visibility into work happening in and out of Trello
 
the new Trello supports teams in a challenging new era, as work becomes digital;
in February, Atlassian introduced 5 new board views (timeline, table, map, calendar, dashboard) to give users perspective and line of sight into how their work connects to others in the organization;
one central place from which they can manage their work, without limiting them to the use of one tool. Third-party developers will be a key part of Atlassian strategy as they open the boards and cards platform to bring in data from tools and services that teams already rely on.
 
Confluence  
Confluence is the open, central source of truth that can help an entire company stay in sync
 
inline comment in edit mode
in-editor templates in the right rail
smart links – fully embed your files from other sites onto confluence pages
page archiving + bulk archiving (bulk = Cloud Premium)
analytics (see who viewed your page for Standard) + page read time
mobile: dark mode, inline comments, supports 18 languages, OAuth/SSO, switch between sites
release tracks (Enterprise)
Team Calendars (now a part of Premium)
 
Halp 
Halp was welcomed to the Atlassian family. 
The product is a modern ticketing help desk that seamlessly integrates with Slack and Microsoft teams, making request management conversational and attractive for everyone throughout an organization.
 
Pilt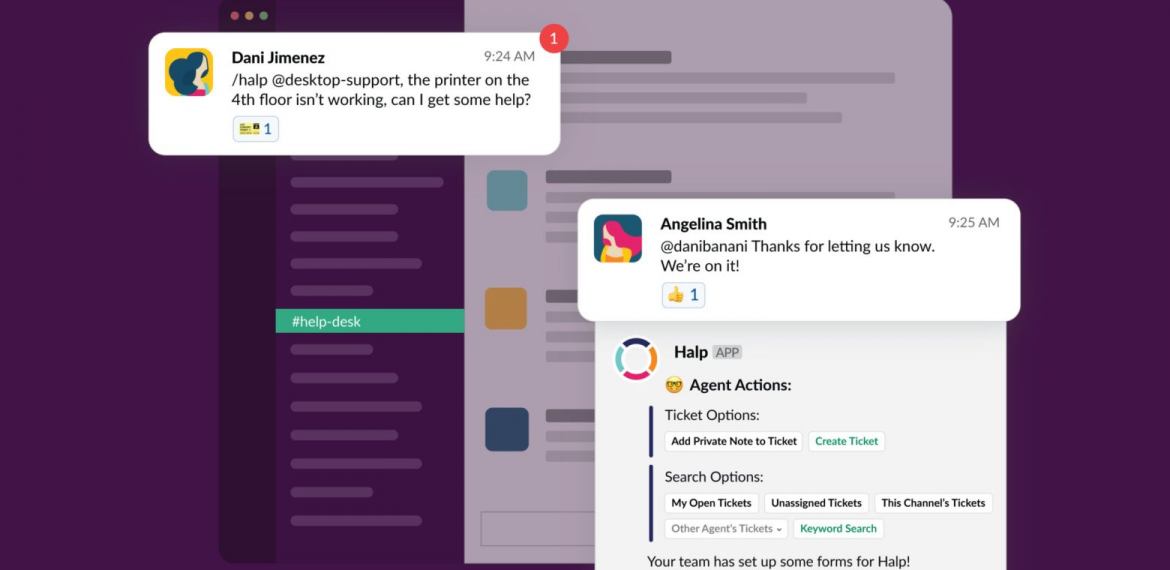 With Halp you can create tickets from Slack messages.


You can use a simple emoji reaction to turn any message into a ticket that tracks the progress and outcomes of inbound requests. 
Halp can be integrated with Jira and Confluence and is also available as a standalone product.
Team as the core in software development  
In summary, it can be said that the nature of Atlassian's new products points out the importance of synchronization between different teams engaged with product development. Like this, the product can be delivered fast and high quality.

 
In TWN we are excited to try these new products and hopefully soon we can introduce them in more detail.

 
If you need some additional information or help, do not hesitate to contact us; we provide consultations and can help with anything regarding Atlassian product portfolio and plugins. More info here.