TWN Life: our developer Tarvi – "If I wasn't an IT developer, I'd be working in aviation"
We are starting a new blog series called TWN Life where we will be introducing you to some of the wonderful and hard-working people at Trinidad Wiseman (TWN) from all kinds of different positions. We will talk about their work, hobbies, what they did before joining TWN, and we will also throw in a couple of curveball questions as well. We conducted the first interview for the series with our developer Tarvi, who is going on his 13th year at TWN. 
""Something just drew me to computers"
How did you become a developer? What did you do before that?
I was the only one in my extended family who was interested in IT from a young age. Something just drew me to computers. It wasn't difficult for me to navigate the world of computers and it all just seemed natural to me. 
Before joining TWN, I worked as a wedding photographer. I also find it amusing to look back on my very first job in grade 8 – I had to dig a ditch and I was paid about 15 EEK an hour. 
What are your favourite work tasks and some things you would be interested in working on in the future?
My favourite tasks include coming up with actual and technical solutions and I also like to participate in projects at a business analysis level. I love delving into details to gain a thorough understanding of the needs of the client and the end users. I want to understand precisely what is being created and for whom, and whether the new solution will actually fulfil its purpose.
I like doing something useful and putting in the effort with my team members so that we can persevere and achieve our goals. In the future, I think it would be fun to work on developing one of TWN's own products that would benefit our clients or the wider market out there. I have also developed a huge interested in hardware during my university studies, so it would be quite exciting to try something in that area as well.
What makes Trinidad Wiseman stand out from among other companies and what are some exciting things you have been able to do here that relate to your field of expertise?
I truly appreciate the fact that the company is very supportive and always works with the employee to find a solution that works for both parties in any situation. I also like the fact that we're not just colleagues – my relationships with my colleagues have become more personal over time and even our children sometimes play together.
The company trusts and supports its employees enough and provides them with the freedom and responsibility to choose how to best do their job. TWN has always supported us in achieving our personal goals within our field of expertise and provided us with the freedom to choose our technical stack.
Speaking of things to do within our field, my team and I have been to IT conferences in London and Holland, for example, both of which were amazing experiences. Last autumn, our team also went driving with off-road vehicles in the forest. I like these kinds of outdoors events a lot!
Pilt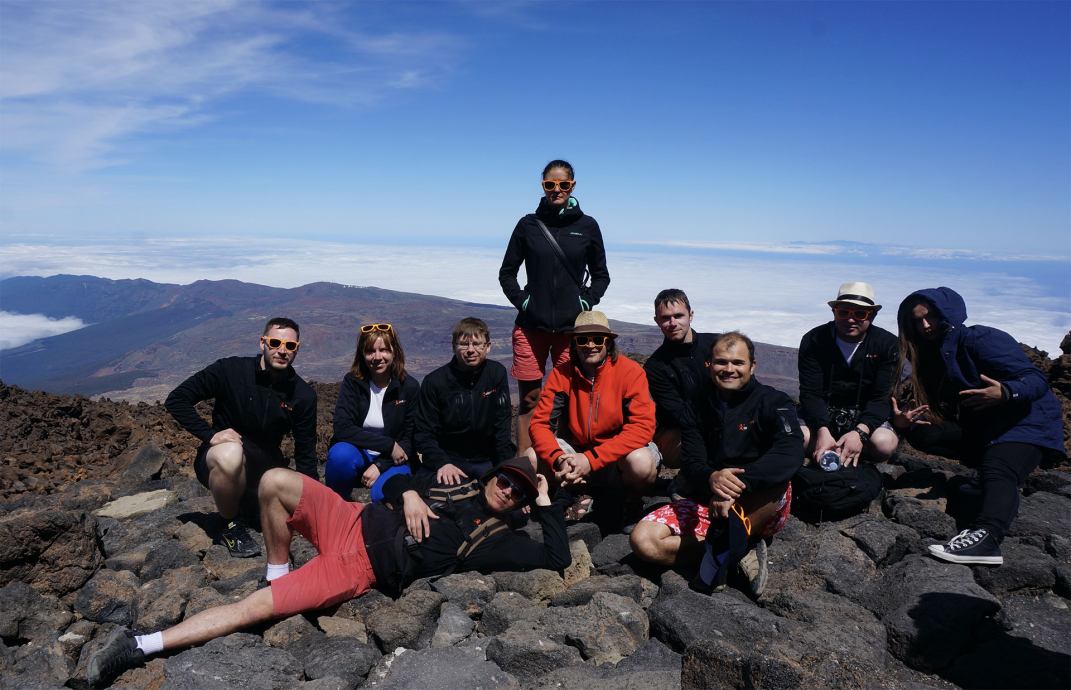 Trinidad Wiseman team hiking in the mountains (El Teide, Tenerife)
What kind of current global processes may affect the field of ICT the most in 5 years' time?
Definitely 5G, which will also bring more new and different services along with it. Of course, e-country solutions will become more popular outside of Estonia as well. While our e-country has been developed quite extensively, other countries still have all that hard work ahead of them.
The next big thing will be artificial intelligence (AI) or in layman's terms, machine learning (ML). A lot of people can't really foresee all the possibilities, but also the dangers, that this area will bring with it in the near future already.
Machine learning will enable us to automate a lot of everyday tasks in the future. I sincerely hope that means that machine learning will provide us as humans more opportunities to actually be people in the future and to focus on developing and noticing humane values all around us. 
"Life doesn't have to be all that complicated"
What are some of your hobbies, hidden skills or odd habits?
In addition to IT, I am very keen on aviation. If I wasn't an IT developer, I'd definitely be working in aviation. I am also intrigued by city planning and architecture. And over the past few years, I have been getting more actively into road cycling. Before the pandemic, ball games were also a part of my weekly schedule.
One of my hidden talents is photography – from time to time, I like to capture moments, but I no longer do this on a daily basis. Oh, and the oddest habit I have is writing down the names of all the countries in the world in order of size every morning when I wake up. It helps me keep my mind sharp.
How do you relax? What kind of music do you listen to?
The best stress relief is nature – for example, I may just go hiking in the forest for a day or two all alone. At the moment, I am keeping busy with building a house and moving closer to nature.
I am not a big fan of mainstream music. Recently, I have been listening to the Italian composer and pianist Ludovico Maria Enrico Einaudi and the Icelandic composer Ólafur Arnalds a lot. I'd like to highlight the pianist Costantino Carrara.
I also listen to quite a bit of folk rock (or alternative) and bluegrass or a mix of both. Some artists I'd like to mention here are Mumford & Sons or Nathaniel Rateliff. A long time ago, I also played the guitar, which means that acoustic music also captures my senses – especially the EP versions.
Name some travel destinations you would recommend and a daring deed you have done?
Definitely Vietnam – there you'll learn that life doesn't have to be all that complicated. Oftentimes, situations in our life can seem so much more complicated than they actually are.
A daring deed would be 8 years ago when my wife and I moved to Vietnam. We lived there for half a year and I did distance work there. The only thing we knew for sure when we landed was where we would be spending the first night.
The best advice you have ever heard?
"Time is a person's most valuable treasure. If you have nothing to say, then don't waste your own time and, above all, other people's time." (Fred Jüssi)