Game development – a fun break from your daily work routine
Introduction 
For years, we have been trying to get together a team of people who would be interested in making a game. We have kept our eye on various hackathons previously as well, but something has always come up or we have not been able to get together a big enough group to actually participate or create something. But there are a lot of people in Trinidad Wiseman who have made games before or who are at least interestesed in game development and design.
This time, we started recruiting people a lot earlier on so that we could get a proper team together for our first attempt at actually making a game together. And so, we planned to participated in the Ludum Dare 47 game development hackathon, which took place between October 2-5.
What is the Ludum Dare hackathon? 
Ludum Dare (https://ldjam.com/) is an international game development hackathon. Twice a year, they announce a time and theme for people to come together and develop games. There are two ways you can take part in Ludum Dare – The Compo, where you must make a game alone in 48 hours, and The Jam, where you can work with a team to game a game in 72 hours. We took part in the 47th Ludum Dare.
During every Ludum Dare, people get to vote to eventually choose one theme around which all the teams will have to make their game. The announcement of the theme is also the official start of the event. The theme for Ludum Dare 47 was "Stuck in a loop". 
Ludum Dare ends with all the participants uploading their games to the platform before the deadline. This is followed by people playing the games, commenting on them, and giving them points – anyone can do this, both the creators and the non-creators. The event officially ends after the winners have been announced.
6662 teams signed up for Ludum Dare 47 and 3206 games were submitted for this hackathon.
The story of our game 
For our game, we ended up with 8 people working on it over the weekend. We had a lot of different ideas for a game as well. Nearly half of the first day was spent on ideation and picking a direction.
Since our team also included several hackathon veterans, then we immediately discarded all the bigger game ideas and focused on simpler games that could definitely be completed and polished within three days.
Ideas pitch and voting in the Miro
After a few hours of discussion, we settled on the idea of a girl who is falling or gliding through her dream and trying to avoid dangers that could wake her up. After that, we split our team into smaller groups – development, design and visuals, and marketing.
Game visuals moodboard 
From there, the game was developed quite quickly. The development team quickly made a first playable version of the game whilst also working on debugging any technical issues. The design and visuals group worked on preparing the visual concept and animations. At the same time, our team was also working on creating the background music and picking out sound effects.  
Pilt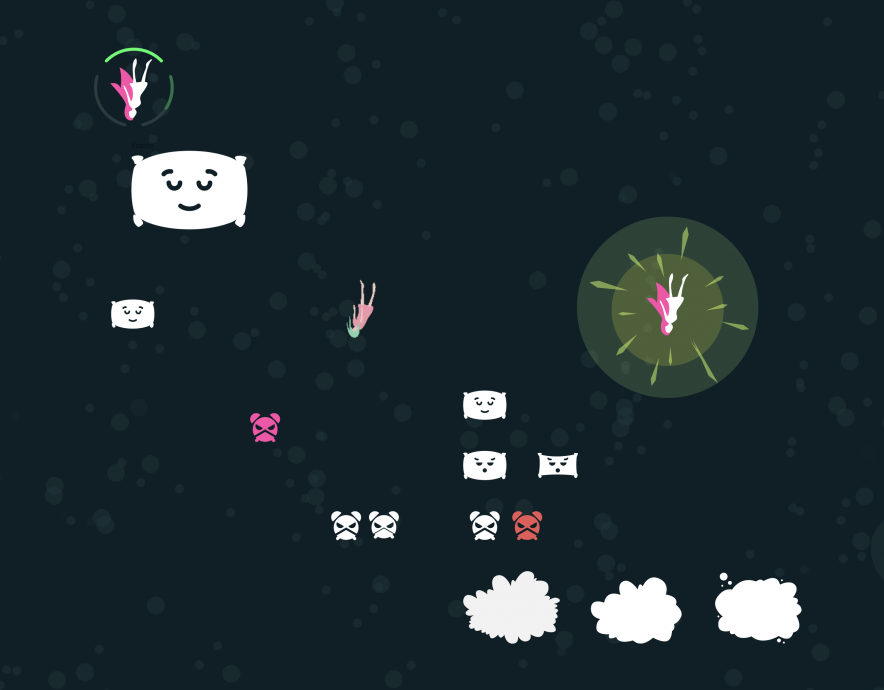 Game components
On the second day, all the pieces started to come together, and we slowly started working on polishing different components as well as testing the game and adding things to it. We also added a main menu along with a start and end to the game. 
The game was essentially finished in 48 hours. We used the last 24 hours to implement some small fixes and after that, we uploaded the game for playing and voting. The game was named Snooze Fall.
You can download the game or play it in your browser here:
https://ldjam.com/events/ludum-dare/47/snoozefall 
Results of the hackathon 
A couple of weeks later, the results of the competition were announced. We were definitely satisfied with our results. We placed 385th overall. Considering that around 3000 games were submitted, it was wonderful news. Our game scored highest for sound and the general mood of the game.
Comments from our hackathon participants 
Hegle: 
"About a fifth to a quarter of the time was spent on figuring out and discussing the main idea for the game. This was a big learning moment – if you have a deadline, then cut your ambitions down. In other words, one smaller yet fine-tuned and polished idea can provide the player with a much better experience than a big but buggy and unfinished idea."
Hardi: 
"This was the first time I managed to get some sleep during a game jam :) There was no need to grind hard throughout the night. Instead, we were able to work in much more humane conditions. Over time, game jams get a lot easier – that is, if the first time around seems hopelessly difficult, then the experiences gained since then have definitely made it a lot easier to create a game today. The main thing is to keep working on it constantly". 
Norman: 
"It's worth creating working builds every once in a while, to ensure that you always have at least one version of the game that's playable from start to end. Then you don't have to worry about whether you have something to upload at the end of the jam or not." 
Rene: 
"From my side, I would like to conclude this article by saying that this experience was definitely a fun team building exercise. But for next time, I would make note of the fact that having such a large team actually makes things harder, since not everyone always has something to do. In turn, this can decrease motivation. Although this probably wasn't the case with the development side. 

 

I think that the game we released was just at the level of complexity that still allowed for us to complete it, especially considering that the people who already had experience with game development on our team hadn't used Unity nor created any components in a while. 

 

In that regard, it was very good that we pulled back significantly on our idea. Of course, it's a shame that a lot of cool ideas were left on the drawing board, but we now have the opportunity to start working on those and make them ourselves or to keep them for the next hackathon. I myself am already planning to continue working on one idea in particular."
Pilt