Advanced Roadmaps - overview of initiatives' and projects' realization
Depending on the organization's work scope, Jira boards, reports and dashboard might not be enough in offering a big picture. 
In the following blog post we will introduce Advanced roadmaps that enables to present a Gantt chart style big picture of the organization's initiatives. 
What is Advanced Roadmaps?  
While Advanced Roadmaps will work for a single team, it is particularly well-suited to present larger pieces of work, giving an overview of organization's initiatives and projects' realization. 
 
Issue sources (Scrum or Kanban board, project or filter) determine what data will be used in Jira Software to display in Advanced roadmaps plan. 
Pilt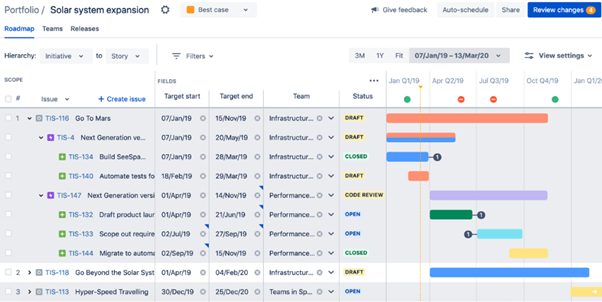 Example of Advanced Roadmaps plan view.  
How does Advanced Roadmaps work?  
Let's take a closer look how Advanced Roadmaps works by its features and functions. 
Multi-team & organization-level roadmapping 
In Advanced Roadmaps you can create hierarchy levels. 

The issue logic is - the organization's initiative is divided into one or more epics, that consists of different tickets (e.g bug, task, story, subtask).

So for example, you could map epics from a dozen different teams or Jira projects to a single feature. 
Pilt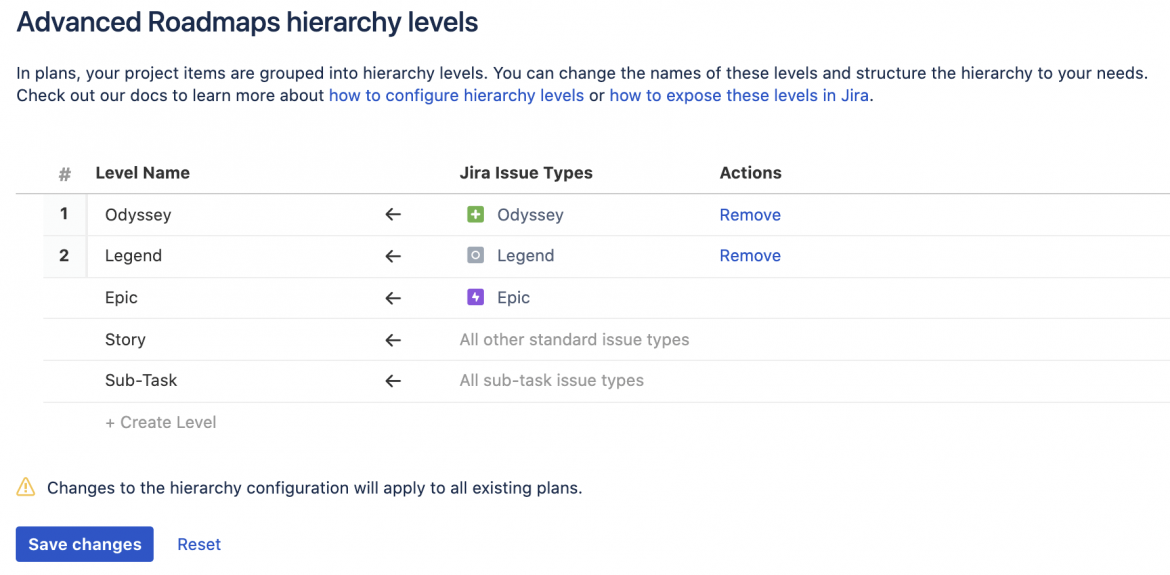 Example of issue type hierarchy level structure. 
Team capacity planning 
Advanced Roadmaps helps you account for your team's capacity in your plans - every team gets visibility into whether they're taking on too much work in a specific sprint or whether they can potentially take on more. 
With the overview you know if you have to reduce the scope of your project, reallocate resources, or adjust your due dates. 
Multi-team & organization-level dependency tracking 
Advanced Roadmaps can track and visualise dependencies across all of the work and teams in your roadmap. 

For instance, if some issues are blocking the progress of other issues or if a progress of an issue depends on a team that is overloaded with work.

Dependencies are shown on the timeline by badges or columns or in the dependencies report tab. 
Pilt
Example of issue dependencies shown in the dependencies report tab. 
Multiple scenario planning 
Plans change and there's often more than one path to getting the project over the line.  

With Advanced Roadmaps you can build different versions of a plan, in order to account for things like the best and worst case scenarios or different strategic options that are available for your organization. 
Communications at all levels of your organization 
It is possible to share your roadmap plan with an executive team, showing work and their progress only at the highest level.  

With other stakeholders you can show how epics and stories are progressing. You can share it via Confluence or with a link to your roadmap. 
Advanced Roadmaps on different platforms  
Advanced roadmaps is included in Jira Software Premium and Enterprise Cloud plans. 

On Data Center platform Advanced Roadmaps available to download for free and will automatically be included with Jira Software versions from 8.15 and beyond. 
A thorough preparation is the key to implement Advanced Roadmaps successfully 
Advanced Roadmaps is a powerful tool and to implement it successfully, a unified project structure is a prerequisite. 

If you are using Advanced Roadmaps for the first time and you need some additional information to implement it, do not hesitate to contact us; we provide consultation and can help with everything regarding Atlassian products and plugins. 

You can find more information about our services here.