Life on a sailboat and working remotely from the sea
During the time when coworking spaces and hotdesking are the cool new things, working and living on the boat is taking it one step further.
Meet Kaur Klaamann, Trinidad Wiseman Atlassian consultant and his girlfriend, who decided to leave behind their life in Estonia, for a life at sea aboard their 30-foot sailboat, Ronja. Below, we detail their maritime remote-work lifestyle.
Kaur, please tell us a little bit about yourself and what are your everyday responsibilities at Trinidad Wiseman.
I am an Atlassian products consultant. My responsibilities include providing insight into Atlassian product portfolio and consulting Customers on how to make the most out of their products. I have almost 20 years of experience with network security administration, system maintenance and -analysis. I help to choose customer licenses and tailor even the toughest installations, configurations and integrations.
How did you prepare to work remotely and sail the world?
I have been working out of the office most of my life. The nature of my job has been mainly mobile. 
22 years ago, when I started my career, my responsibilities included implementations and changes in the existing systems (which usually needed to take place outside of regular office hours). 
When I started working with Atlassian products in 2013, I continued meeting with customers on-site for doing demos, as we decided with our team that first years needed more face-to-face meetings. In 2018 we moved to a sailboat with my partner and have worked on the water since then.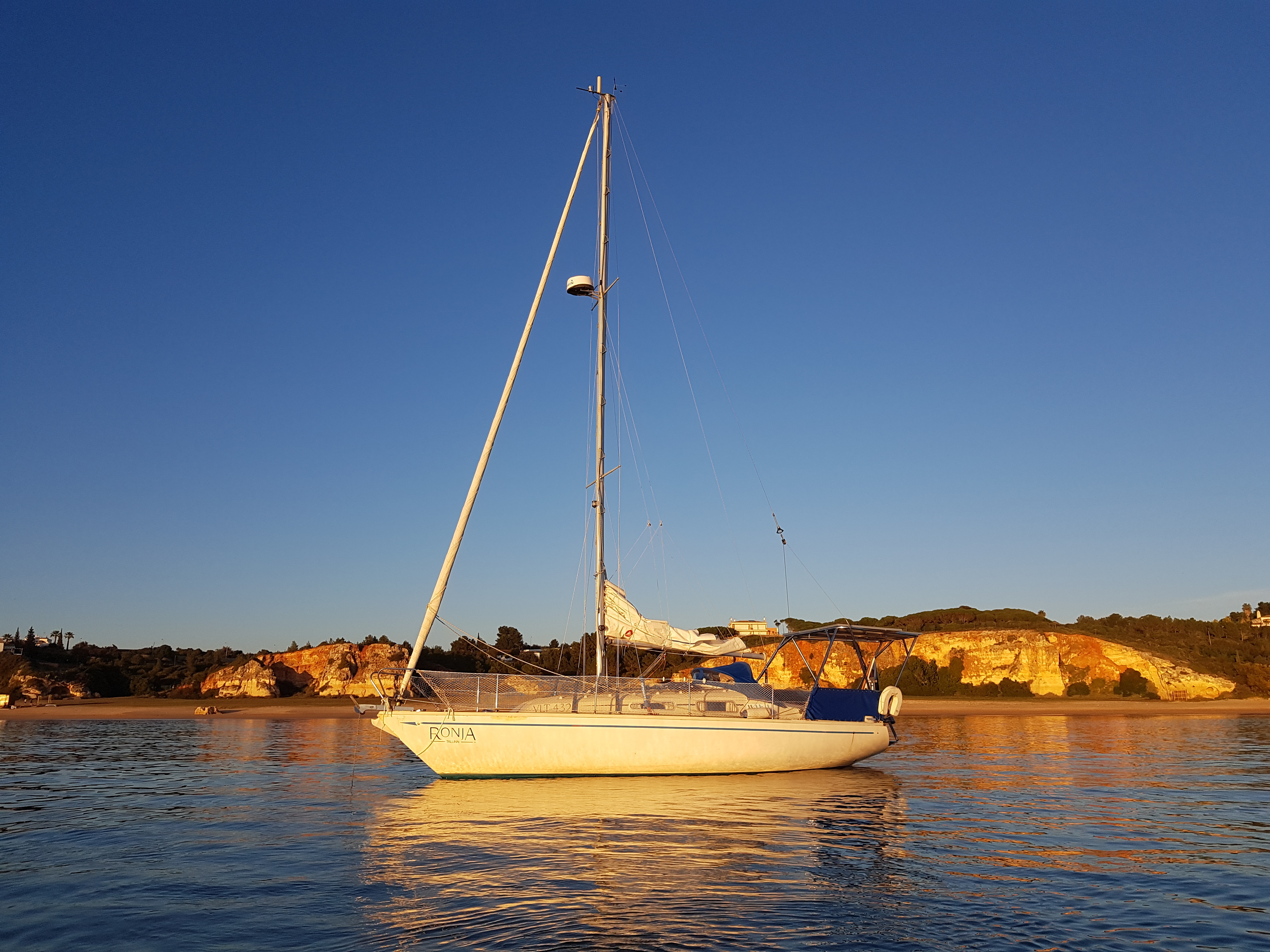 What have been the main challenges?
It has always been essential to maintain self-discipline, to keep track of deadlines and keep up with the schedule. I try to save room for unplanned or unscheduled work calls as work is my main priority.
The fine line between work and free time is becoming vague. It is easy for me to slip more often to the work side, and I must really make an effort to keep that from happening. Taking time off work and being away from the gadgets is really necessary to maintain a healthy mindset.
I like the change of scenery. During the first year, we sailed more while working, so my partner was mostly dealing with the sailing side of things while I was busy working on the computer. The truth is that it was not always the best working position as the boat is tilted and rocking with the waves; keeping the maximum focus only on work can be challenging like this. We decided to keep moving only during free time and stay in the marinas or well-protected anchorages during working hours. For the best we try to keep longer crossings for holidays or weekends, the last two Christmas holidays we celebrated sailing (first time crossing the Bay of Biscay from Brest to A Coruña and second time the Mediterranean Sea from Menorca to Tunisia).
How do you stay connected to your colleagues and clients?
As working internet connection is a crucial lifeline for our online work. We spent 1 year of refitting and testing our sailboat before heading out, so we pretty much know the limitations of our onboard wireless equipment - which is typically 30-50 miles offshore. We keep within the mentioned limit, so there is usually never a situation that we don't have a connection. We don't like using satellite internet as this is expensive.
In Europe, we can usually experience max +/- 2h GMT, so it is no big deal. That is one of the reasons we haven't sailed further timezone-wise for now.
Most of our customers know our story, and it has not made any difference during day-to-day activities. For the client trainings, I have also flown in, but unfortunately, this is currently impossible.
Which tools do you recommend for someone who works remotely?
My most popular tools include JIRA, Slack, MS Office, Confluence, Skype, Zoom, Bluejeans and the good old telephone. The mentioned tools are mostly necessary for communication with other parties I work with. When using these collaboration tools, it makes sense to understand the capabilities and build (plus regularly update) the architecture of these tools for yourself. You can easily automate simple tasks and save precious time doing this (advice taken with a pinch of sea salt).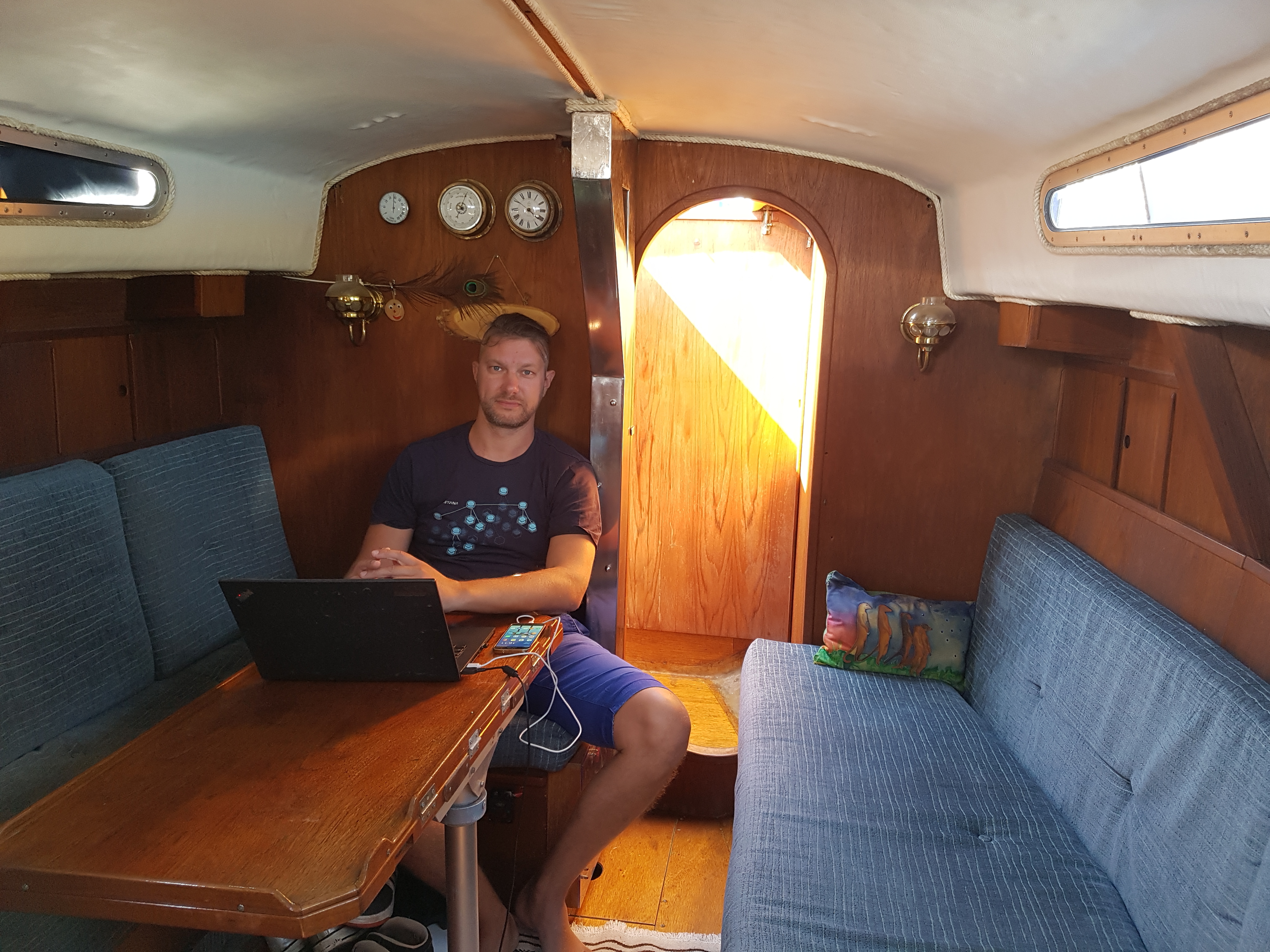 What are the things to look out for?
Keeping an eye on the weather info is a must when living on a boat. One really doesn't want unexpected surprises from the technical side, so everything should be maintained as well as possible. One of the worst surprises got us when we were mooring in the canals of Amsterdam... out of nowhere came a 30kn squall and "slapped" us so hard that my laptop fell off the table. So, over time, we have developed a "dolphin brain", which means there will always be some part of the brain unconsciously active on the lookout for the weather :)
Right now, we are pretty much stuck to one place in Balearic Islands, as most of the marinas in Europe are closed, and it is difficult to make any kind of plans until the situation has stabilized. We will probably stay in the Mediterranean area for the next 12 months.
Do you have a strategy or tip for how you handle working remotely?
This lifestyle can be challenging, especially in the beginning as you're figuring everything out. It's easy to fill every single day with something to do — emailing, fixing things on the boat, sightseeing.
I would recommend making a schedule and sticking to it. If there are not any critical tasks to fulfill outside of the scheduled hours, don't open your computer or tablet. Allowing yourself to completely rest is essential.