How to create contactless services?
Over the recent months, there has been increased interest in contactless services. Companies whose service has always been contactless will definitely do better in today's market situation. However, for those, that have until now provided their services onsite, have outdated websites or lack in contactless IT solutions, the situation is much more difficult. It is time to think seriously about redesigning your services. The storm will pass – but we will inhabit a very different world.
But what does contactless service mean? Why do you need it and how to create it? You can find answers to these questions in this blog post.
What are the reasons to make your company's service contactless?
A contactless service is traditionally a digital service that is available on the phone, app, or the web. Today's life and businesses work, but you can't say that everything works smoothly. For example, many companies have websites, but not all of them are of high quality and do not help the user to solve his/her problem. Today's crisis is forcing us to take a critical look at our current systems and identify those bottlenecks and opportunities where it is time to restructure to stay competitive and meet today's customer needs.
Improving systems is not just about the survival in a crisis, but also about shaping a completely new future. Many companies, both large and small, have already critically evaluated their existing systems and found areas where they can supplement their service by adding in a contactless solution. For example, Nopri Talumeierei hired a courier and, for the first time, organizes home delivery within Southern Estonia. Since the malls in Estonia are closed, the department stores Stockmann and Kaubamaja have taken their biggest spring campaigns "Hullud Päevad" and "Osturalli"  to their online stores. Many florists offer contactless flower deliveries to the recipient. Home delivery services will also be extended to hitherto neglected rural areas.
These are just few examples of companies that have adapted quickly to the rapidly changing market situation. They have taken steps to change their service and also invested in digital solutions that support contactless service that give them a better future perspective. A digital service can also include a physical touchpoint, such as a courier service. But it can also be contactless, as DPD has done.  Of course, there will always be services that cannot be made completely contactless - but the development of a digital service can reduce the company's risks significantly. Your service will become more appealing if there is added value or convenience and it's likely that you will see an increase in sales, and in turn, revenues. 
What are the advantages of the contactless service over onsite service?
Lower cost of contact
Ability to serve significantly more customers (also simultaneously)
The possibility of automation
Every change takes time, but you can always do something that improves the current situation today. The overall benefits will be seen later. When it comes to changing work habits, it is more acceptable for both employees and customers if the changes take effect gradually rather than all at once. However, in order to take small steps, you need a unified vision, or a big plan, to move towards. In order to put together this unified vision, we carry out service design process.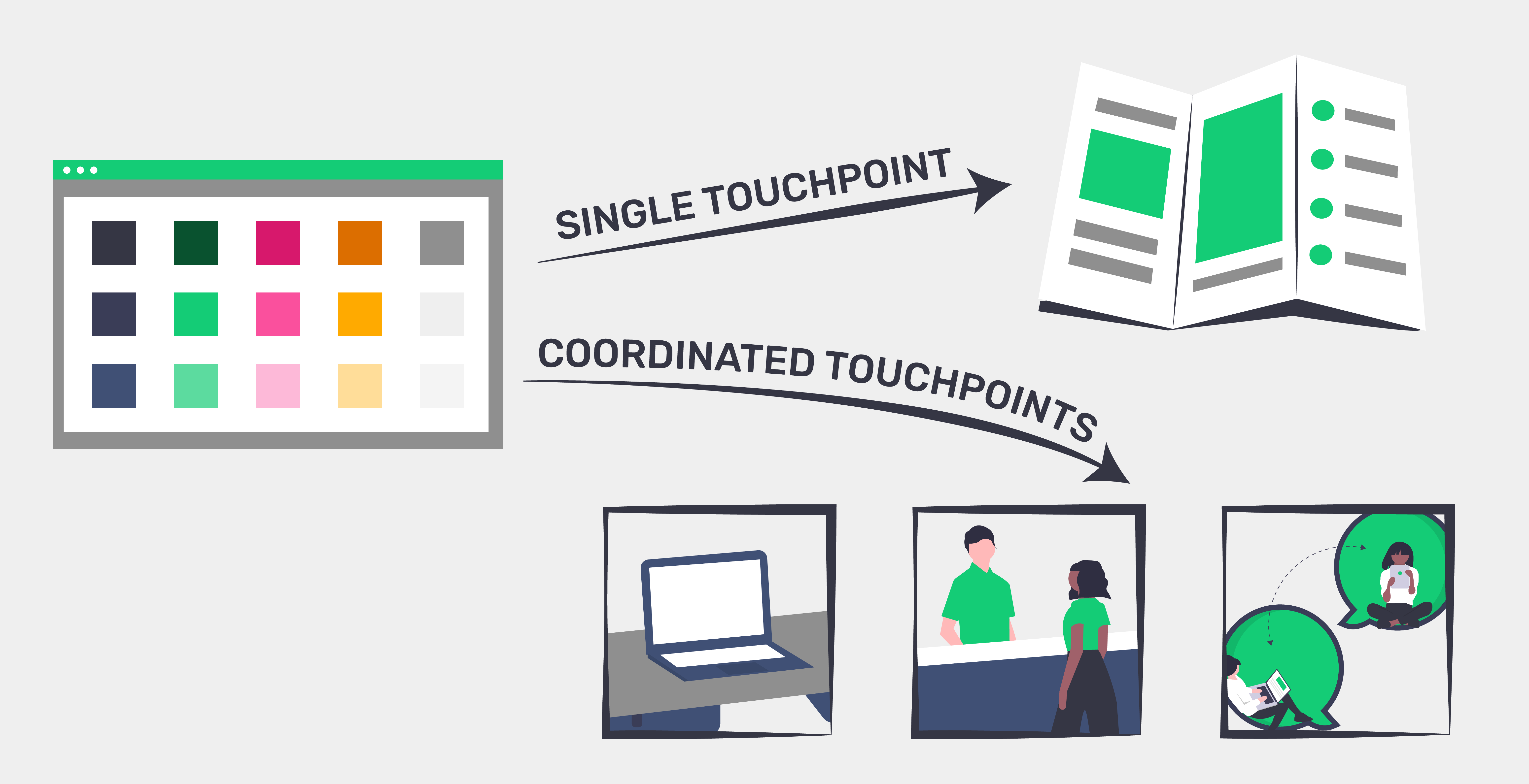 How to make your company's service contactless?
Every business and service are different, in order to gain a business advantage, the specifics and differences of the company must be uncovered during the service design process and highlighted as strengths. It may seem easier to choose an existing solution and go for copy + paste. This may not always be wrong, but in this case, you need to think about how to adapt this solution to the context of your company's service and how your employees will cope with the changes.
Below are the steps in the service design process.
1. We gather information from within your company. To do this, we conduct group interviews with your company's employees (online in the current situation). This is a pleasant conversation conducted by our specialists to better understand the business needs of your company.
What type of service is offered today?
What are today's experiences?
What do you like and dislike about your service at the moment?
What is not working today that can be improved?
What are the company's plans in marketing, plans for the future?
2. We collect information from your customers, i.e. we map their needs and today's experiences in the context of you as well as competitors and other similar services. To do this, we do one-on-one customer interviews in the form of a pleasant conversation (online in the current situation).
How has the customer already used similar services today?
What does he typically like and dislike about these services?
Is there anything that has been overlooked so far or has there been any inconveniences?
How does the customer consume this service and what about their family or friends?
What are the good examples of similar service?
3. We will describe the whole service with you in the virtual workshop in the format of "as is it is today". There we will give you a step by step overview of all processes and highlight any obstacles and problems you may have.
4. Generating ideas - in collaboration with you, we will develop a possible solution in a joint workshop that would help your client to better solve his/her problems in the future and bring out concerns that should be addressed immediately. We will also be looking for opportunities where service, which we could not imagine to be contactless, could become contactless.
5. We will create a Service Blueprint *, i.e. in collaboration with you, we will create a service plan in the virtual workshop in the format of "how the service will be".  A service plan is a roadmap comprising the steps and processes of delivering a service from a customer perspective. The plan also includes actions about what the company and its partners can do to improve the service. The service plan has become one of the most widely used tools in service operation, service design and service positioning.
6. At this stage, we formulate a vision and a work plan on how to implement the change.
Reviewing the services is the first step to a more efficient business, and all the big things start with that very first step. We can't tell you exactly what you need to do, but we can help and support you throughout this journey, bringing and applying our knowledge and experience from similar projects we have worked on.
If you have been thinking about this topic and you are interested in finding out how this process could work in your company, then sing up for our free consultation. We will help you to establish the plan with the details of the project and explain how to implement it in your company. During the free consultation, we will find answers to questions such as, what is the main focus of the project and who to involve in the information gathering. We also provide estimates of project time and volume.

Take a look at our recent service design projects.
References:
* G. Lynn Shostack, (1982) "How to Design a Service"