Custom-Made Online Store vs an Out-of-the-Box solution?
eCommerce plays an essential part in our daily life. Online retail is a booming industry, with sales projected to reach $4.135 trillion in 2020 (Statista, 2020).
Shopping online does not just mean using desktop and laptop computers anymore; it is anytime, anywhere. Customers use multiple different devices to purchase food, clothes, electronics, to make payments, transfer money and so on.
But choosing the best eCommerce platform is not as straightforward as it seems. It is one of the most important decisions that you will make on your eCommerce journey. In this blog post, we look at the different possibilities of online stores, highlighting the advantages and disadvantages, and sharing Trinidad Wiseman's experience.
Types of online stores and their users
An eCommerce platform is a software application that allows online businesses — small or enterprise — to easily manage their website, marketing, sales, and operations. These can be divided into three categories:
1. Saas (software-as-a-service), in the context of website hosting, is a completely ready-to-go platform. You don't have to deploy and support the code of your website. The only thing you are responsible for are the content and visual look of your online store. It is delivered on the cloud as part of an ongoing subscription. Prices start at 8€ per month and go up to hundreds or even thousands of euros per month.
This kind of online shop can be ready and available within a day, depending on the customer's need for personalization.
The best example of SaaS in eCommerce is Estonia's platform Voog, Wix, Bigcommerce, Squarespace, Shopify and others. The primary use of these services is open to anyone with a basic knowledge of the web.
Such a solution is well-suited for smaller and more simply structured businesses, whose product range is not so wide and specific. These could be yoga courses, small organic shops and anyone who is self-employed and would like to sell their products or services. This solution may also be suitable if you want to test your business idea and aren't ready to invest huge sums into hosting.
2. Open-Source CMS solutions are those that can be downloaded for free. However, depending on your requirements, the cost of customizations can add up fast, and the cost of supporting and updating your site can also surprise you with unforeseen additional charges.
Some of the most popular eCommerce CMSes for online stores are WP WooCommerce, PrestaShop, Magento, Drupal Commerce.
After personalization, the real cost of an open-source CMS can be much higher, with prices starting from 10,000€, which does not include server fees and security upgrades.
The main issue with this sort of quick website development is that it requires an adequate strategy and proper planning to have a viable profit-generating online shop at the end. Good results are ensured by proper pre-analysis and website prototyping, which can take several months to develop.
Such eCommerce software adds flexibility and allows the customer to decide how to proceed, i.e. there is no so-called vendor lock. Solutions, where the additional interfaces are external, and the design, structure and construction are unique, are suitable for online retailers with a slightly more complex solution.
3. A fully customized tailor-made eCommerce solution is the option to go with if the above-mentioned open source solutions don't fit your needs. Custom eCommerce websites provide you with greater control, flexibility in setting up the security features, simplicity and scalability.
If this is what your business or organization needs, then it makes sense to get a tailor-made solution, such as a solution based on Java, NodeJS or some PHP framework.
The prices usually start at 50,000€ and as they say, "the sky is the limit".
It is recommended to perform system analysis and testing, which can extend the process by half a year and more. The tailor-made solution is suitable for large online stores, but also for ordering, booking and ticketing systems, as well as for self-service environments and when selling a virtual product or access to something. It is always worth thinking about a special solution if you want to get a unique result.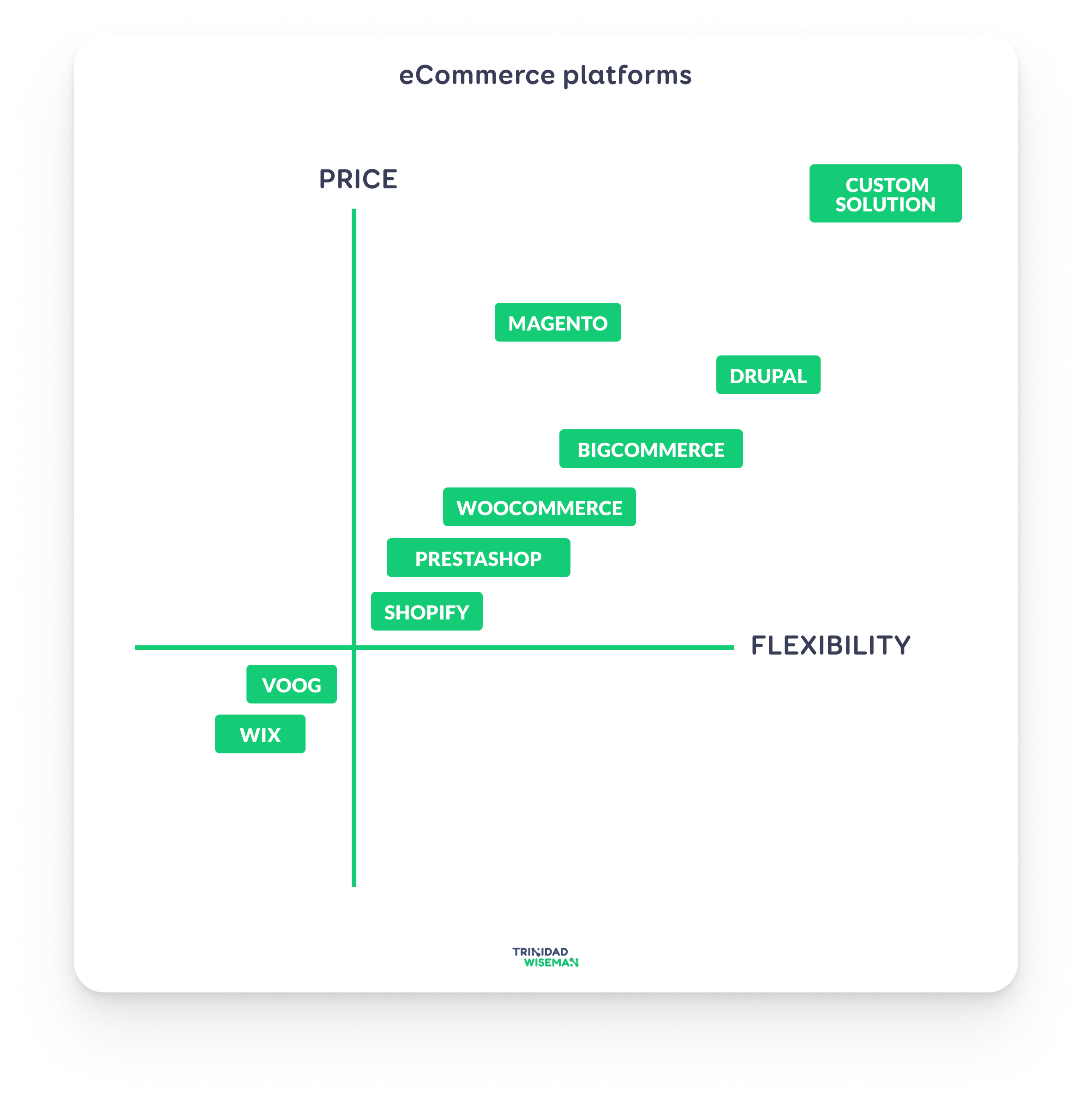 *Based on Trinidad Wiseman experience
On which eCommerce platforms does TWN develop online stores?
Our first choice is Drupal Commerce and, if necessary, a completely tailor-made solution, for example on NodeJS or PHP Laravel platforms. Why you ask? Drupal is secure and scalable and since it's a CMF (content management framework) rather than a CMS (content management system), it is also very flexible.
As a bonus, you will get an excellent content management software with many possible add-ons. Drupal is also praised for its excellent security.
Although we also develop on WordPress on a daily basis, we do not recommend building an online store on it, as it may lack the required capacity if the business grows and the workload increases. WordPress is a great platform for simple websites and blogs. In our opinion, an online store should be built on a more solid foundation, where new functionalities, interfaces and any possible changes can be made by developing them correctly and sustainably.
We also recommend critically evaluating the selection of ready-made themes. After deleting, editing and adding various blocks, the initially attractive and refined theme may gradually become more and more distant from a user-friendly and uniformly harmonized online store. After adding new things in and changing the functionality of a theme, WordPress risks becoming a card house, where putting up one corner can result in a crack on the other end of the house. Therefore, as an alternative, if your finances are tight in the beginning or you just want to test your business plan, we have recommended the Voog solution created by Estonians.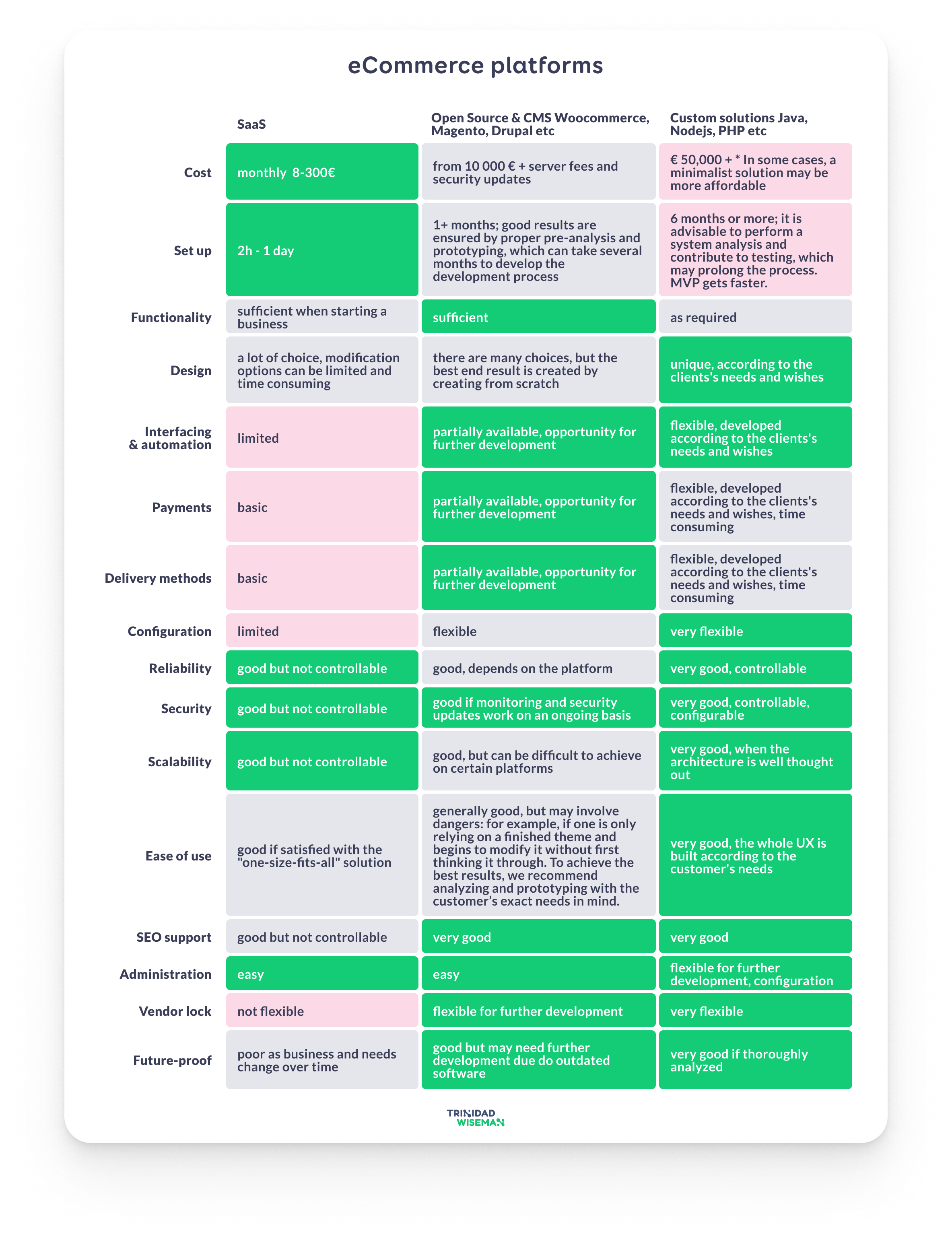 Should you use interfacing and automation?
An interface is like a bridge between two systems, for example, an online shop and warehouse software. However, automation is the process of creating and implementing technologies that enable products and services to be designed and delivered with little or no human intervention. In this case, if a customer purchases an item from the online store, then the inventory is updated directly in the warehouse management system, and the accounting information is already shared with the financial management system.
Trinidad Wiseman has experience with various warehouse and financial management software solutions, such as IDS Buum, Microsoft Dynamics 365 Business Central (NAV), Microsoft Dynamics AX, iScala and many other similar business software solutions.
Today, automation and interfacing are widely used to speed up and revise processes and to reduce human error. The following are examples of automation and interfacing in everyday life - they are applied to various payment and post-payment systems, including deliveries.
For example, to calculate the physical dimensions of a shopping cart in order to provide the most suitable transport solution. The system sends invoices directly to the accounts and to the customer via the e-invoice centre.
For pricing, solutions can be set up where, for example, regular customers can log in and immediately see the "special" prices. In automated eCommerce, we can offer the customer additional sales, such as compatible products or a maintenance kit.
Chatbots are quite popular and widespread, but their deployment largely depends on the customer's capabilities. There is no point in implementing this if the retailer is not able to respond to the customer immediately. If you want to call back customers who leave a purchase, then you would benefit from marketing automation.
Automation and interfacing also allow for convenient and efficient management of returned products as well as warranty maintenance. It is much more difficult to interface with a SaaS or an out-of-the-box online store solution than with open-source CMS solutions or tailor-made solutions. In the case of SaaS, there are some ready-made interfaces that you cannot change yourself, and adding them to your online store is usually complicated and time-consuming, if not impossible.
Advantages of automation and interfacing:
Better customer service
Enables you to be more operational and to provide faster updates and responses
Less human resources required to maintain the store
Accuracy and reduction of human error
Maximum expandability - the number of products is not limited by the surface of a physical store
What questions should you think about before opening an eCommerce store?
How confident are you in your business plan? Would you like to simply experiment with a cheaper solution first (and choose a more complex one later)? How much could your business change or grow in the next year or two?
How much do you want to invest in an eCommerce solution today? How much in a year?
Have you considered self-financing and or any additional sources of financing?
When should the online store be up and running?
How important are UX and the design of the store for you?
What products will you sell online? Can you sell them online? Are they physical or digital?
How many different products are there and how do they differ – for example, in colour, size, etc. – to determine the need for system flexibility?
Do you want to offer product kits, related products or any other specific additional functionalities?
Do you want to enter products yourself and manage the inventory manually, or is there a warehouse program to automate this process with?
Do you want to set different pricing rules and accompanying campaigns?
Which payment solutions do you want to use (bank links, credit cards, commission, instalments, PayPal, etc.)?
What is the estimated volume of orders? How much do you want to handle purchase orders yourself? Are they manually managed, or do they need to be automated?
What are the delivery options?
What marketing solutions need to be involved? (newsletter, social media support, promotions, coupons and discounts, various ads and more)
Is there a separate section for regular customers with specific prices and opportunities?
What other interfaces are needed?
How much support is needed from the development partner? Do you want them to provide you with their ideas as well?
We hope that our blog post will give you some good ideas and help you find initial answers to your questions. We cannot tell you exactly what you need to do, but as a mentor, we can help and support you by bringing and applying our knowledge and long-term experience. There are many choices and possibilities, each with its advantages and disadvantages. If you are interested in finding out which solution would be best for your business, please contact us, and we will help you with the myriad of options out there.
We can provide an initial free consultation and expert assessment to map your business needs and recommend a plan. We also offer time and volume estimates for projects.