What has changed on the Atlassian Cloud platform during the past half a year?
Focusing first and foremost on Cloud, Atlassian is making profound investments and updates on their cloud platform.
The following will introduce you to remarkable improvements on Atlassian Cloud from user experience and Jira administrating perspectives.
Jira platform
Possibility to restore dashboards from the trash
Jira clean-up is now somewhat more easy-going, with the option to restore a trashed dashboard within 60 days. 
Admins can now retain access to a private filter
Until now, private filters that needed to be edited but which were owned by a deactivated user created considerable hassle.
Now a Jira administrator can change the owner (and permissions) of a private filter.
Possibility to configure a custom email address for product notifications 
You can now customize email notifications from Jira to look like they are coming directly from your company instead of the atlassian.net domain. 
Dedicated icon for a custom field description
An instance with many custom fields can confuse end users on which information is needed.
There is no more misunderstanding as there is now a special icon next to the custom field. You can hover over the info icon next to a custom field's name to read its description if there is one.

The description of the field is displayed if it has been added by the admin.
Insight into actions made to sandbox
From now it's easier to track activities in sandbox thanks to the audit log.
Jira Software
Development information on an agile board
If you've connected a source code management tool (e.g. Bitbucket) to your Jira project and your team is using issue keys in pull requests, commit messages, and branch names, you'll see development information on your Jira board.
Icons are displayed on issue cards to indicate when there is a pull request, commit, or branch linked to an issue. 

The fields displayed on the Agile board card layout can be configured as needed.
Deployment information on the release page

A new column, Deployments, will show an icon to indicate whether an issue has been deployed successfully and a label to tell you what environment it's been deployed to.
 
Jira Roadmaps (basic) - increased issue limit 
Your project roadmap can now show 5,000 issues instead of the paltry 3,000 issues it could have before.
Create commits from the Jira issue development panel 
If you've connected a source code management tool to your Jira Software Cloud project, you can now create commits via the Jira issue view. 
The development panel will show a link to create a commit by either copying the issue key or copying a git commit command, including the issue key.
Once you add a commit message and push your changes, your commit will be linked to the Jira issue - giving everyone on the team greater visibility over how work is tracking.
Confluence
Page archiving recommendations
With the ability to archive a page and all of its nested pages (a whole branch of the page tree), sometimes not all pages in the branch can be included. 
It can happen when the archiver either doesn't have permission to view a nested page or doesn't have permission to archive a nested page.
Now, Atlassian has added a notification email recommending archiving pages excluded by a bulk archiving action.
Section for drafts
It's considered a draft when you create a page or blog post and don't publish it right away. Before, finding your drafts was challenging when you were working in space.
Drafts appear in the Blog and Pages sections in the space sidebar alongside the published pages and posts.
Automatically created personal space
A personal space in Confluence is a place of your own to jot down new ideas, introduce yourself to your team, keep track of tasks, store essential items or files, polish content before sharing with others, and more.
Personal space is created automatically; you can leave it open or restrict the pages so no one else can see them.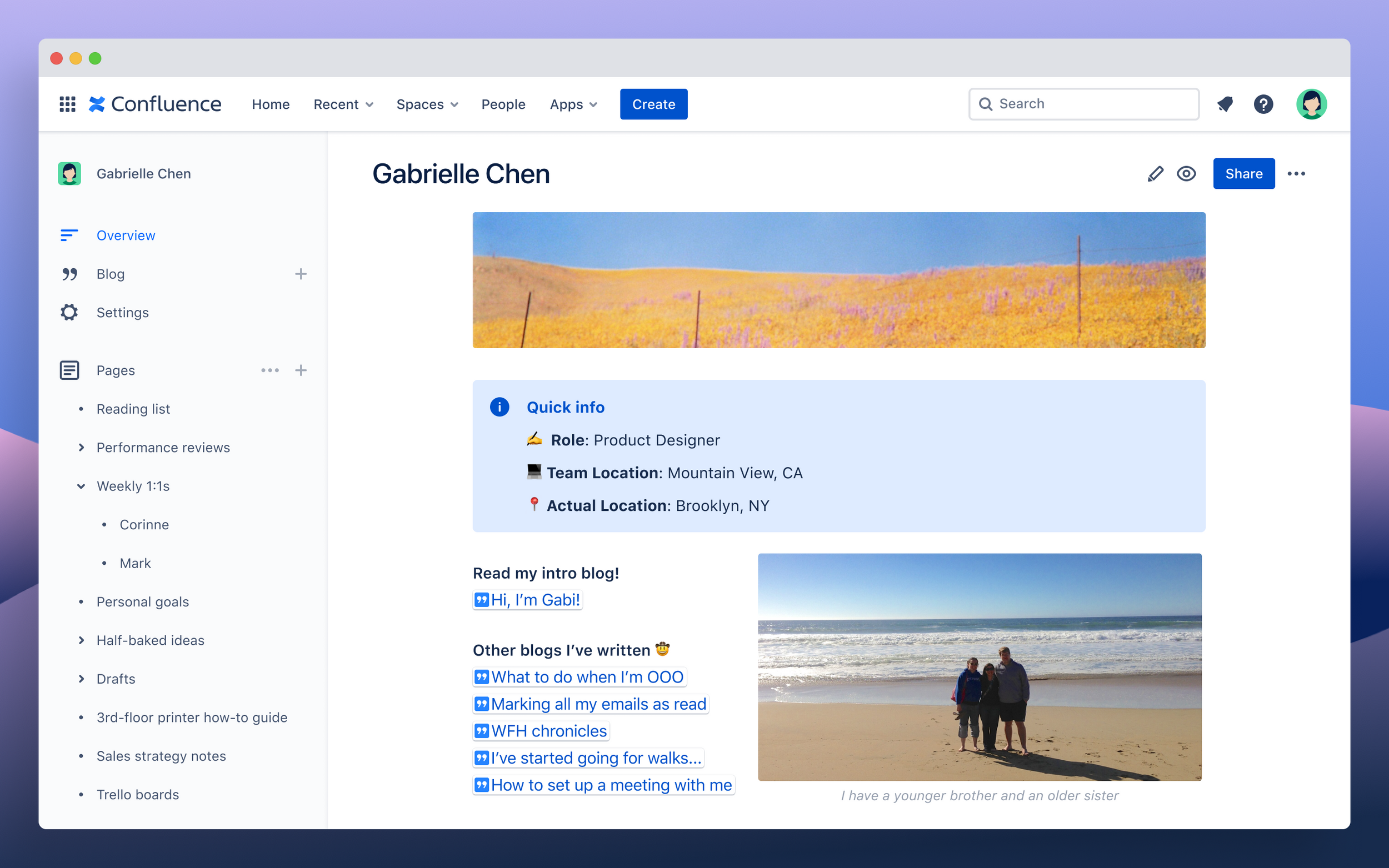 Example view of Confluence personal space.
Get insights into what keywords your team is searching for
You can now get a detailed understanding of individual search term performance on your site by analyzing graphs that measure searches and click-through rates over time.
Additionally, insights are showing which pages are getting the most clicks and which spaces are being visited most, for a particular term.
Jira Service Management
An improved Slack app to collaborate better on incidents
The Jira Service Management app for Slack facilitates immediate communication on incidents. The application enables to connect Jira projects to Slack channels and:
get personal Jira notifications in Slack via a DM with @Jira instead of via email;
automatically send helpful issue previews whenever a Jira issue link/issue key is sent in a conversation;
create issues straight from Slack, in the context of a conversation;

transition, assign, comment on, and watch issues right from Slack.
 
Comprehensive customer management with newly improved customer access settings
The site-level customer access page has been updated to allow access for customers from specific domains. 
In addition, site admins can enable the settings so that no new accounts can be created if your help centre only allows access for existing customers.
Insight field now supported in different gadgets
Like the Server version, you can now analyze your Insight fields in Jira Service Management using gadgets when configuring a dashboard. 
These gadgets include pie charts, workload pie charts, heat maps, two-dimensional filter statistics, and issue statistics gadgets.
Quickly identify comments from external email
If you have allowed external emails to be added as comments on issues, you can now quickly identify these comments as they will have a "Not a request participant" label next to the comment in the issue and the portal.
Forms
Forms facilitate communication between customers and service desk agents or between agents.
Forms are easily customizable, including all the fields you need, but without asking your Jira admin to create custom fields or reconfigure request types.
If you want to use the form on its own but automatically fill Jira fields with form field information, you can link form fields to Jira fields.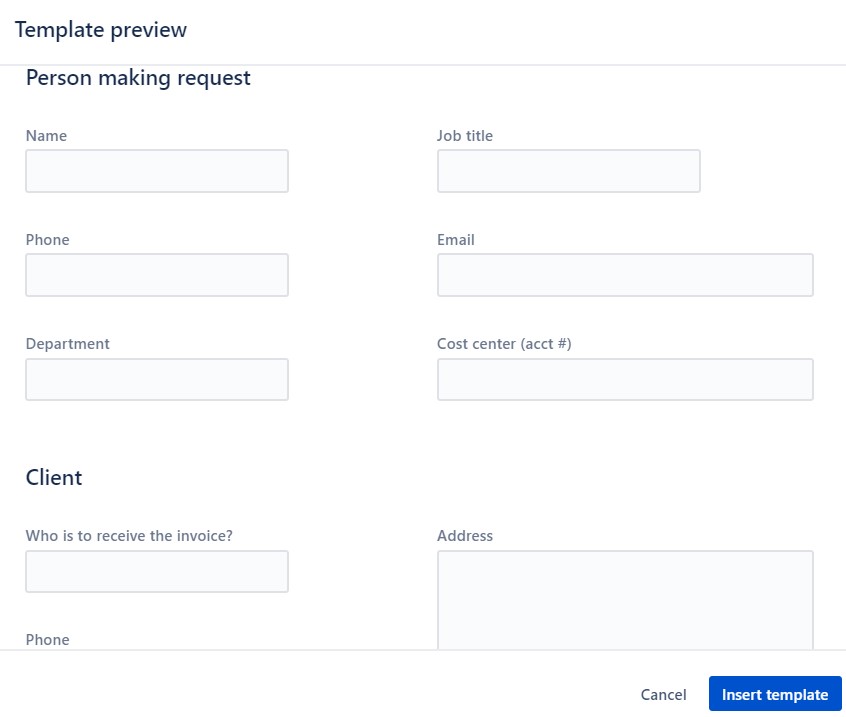 You can create Jira Service Management forms from scratch or find a suitable one from among 300 templates.
Improved view of knowledge base articles in the portal
Customers can now view your knowledge base articles in the portal on a wider canvas. 
The increased width will not just improve the readability of your articles but will also help images and tables render better.
Customers can download attachments directly from email notifications
You can allow your customers to download attachments directly from a link added to the email notification without logging in to the customer portal.
Advanced Roadmaps
Infer dates from releases
In Advanced Roadmaps, you can schedule issues based on the releases they're assigned in the same way you can with sprint dates.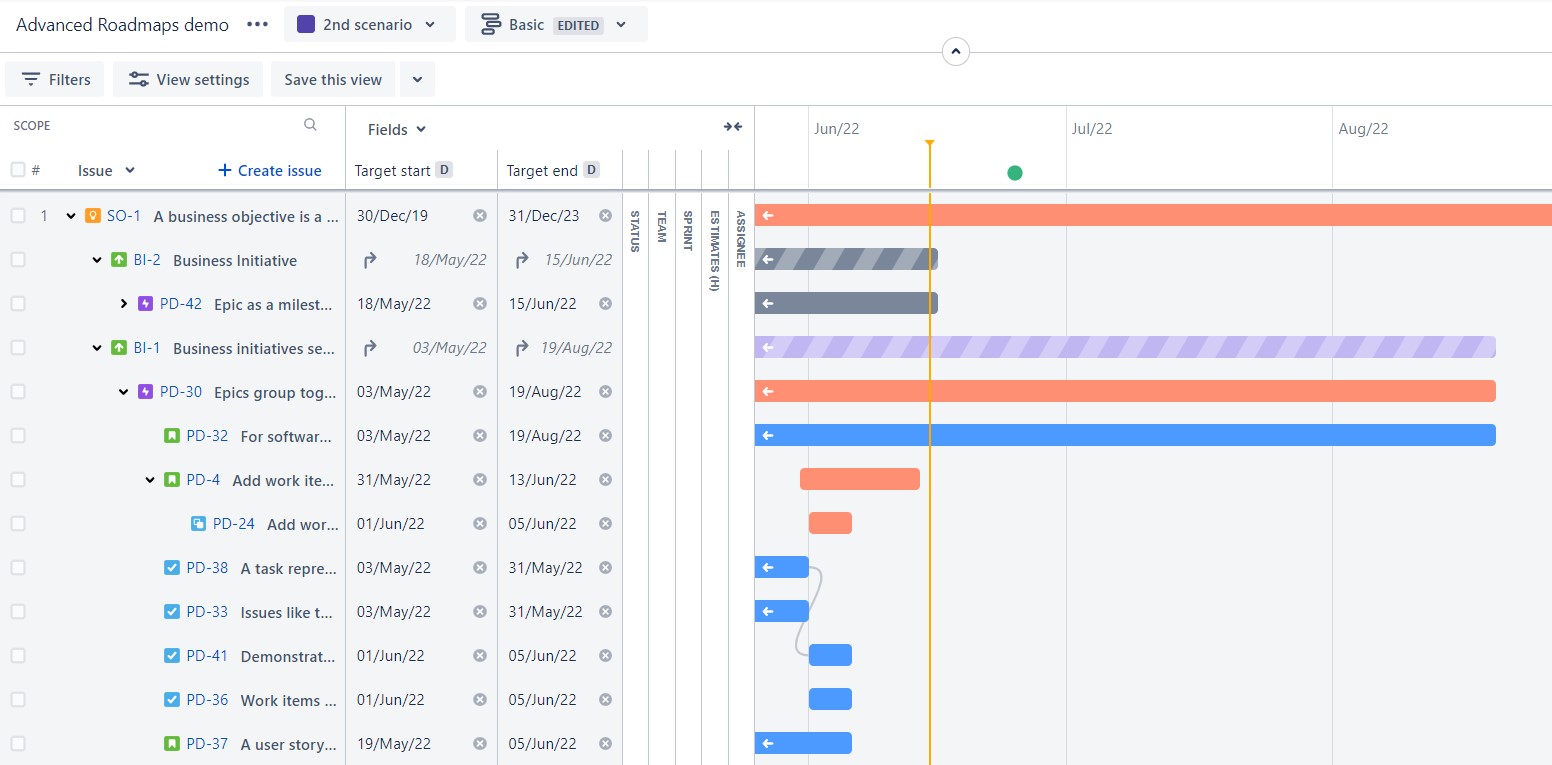 Example view of an Advanced Roadmaps plan.