6 aspects to consider if you wish to implement Advanced Roadmaps or Structure for project portfolio management
Project portfolio planning tools on the market come in a variety of ways but broadly serve the same purpose - to provide an insight into a company's strategic objectives and projects that help to achieve these objectives. 

Next, we will explore two Jira-compatible applications - Advanced Roadmaps and Structure (Cloud versions) - and highlight some of their aspects to consider when choosing one or another. 
 

Displaying issues on a timeline  
Although it might seem obvious that every project portfolio planning tool would have the option to view issues on a timeline (Gantt chart), then it's not possible by default with Structure - Flexible Jira Project Management (from now on referred to as "Structure"). 

By default, the Structure board displays tickets as a simple spreadsheet-like list view. It is possible to show tickets on the timeline, but for this, you would need to purchase an additional application Structure.Gantt is compatible with the Structure plugin. 

As for Advanced Roadmaps, displaying issues on the timeline is already a functionality included in the product.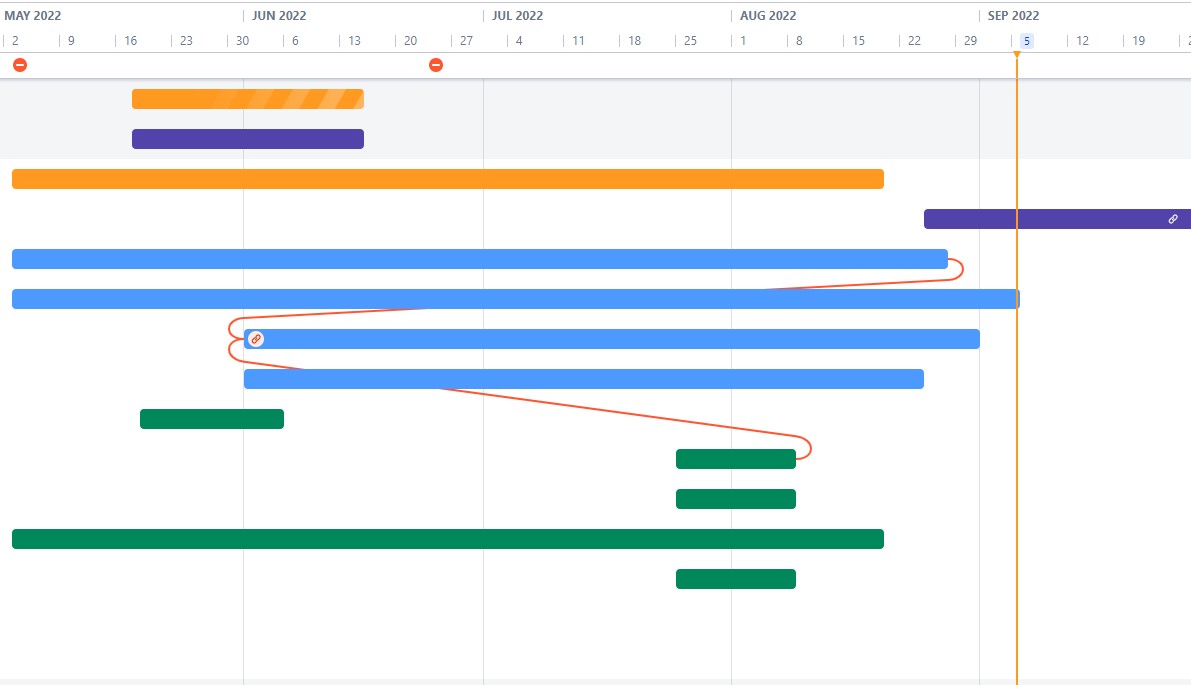 Illustrative view of Advanced Roadmaps timeline. The timeline can be set to week, month, quarter or year. The color of the bars can be configured by different values.
Issue limit 
The issue limit per plan/board will likely become a significant assessment point for long-term projects and large companies. 
For Advanced Roadmaps, the maximum number of issues per plan is 5000. For Structure, there is no issue limit per board; however, the vendor recommends staying within the limits of up to 100,000 tickets.
However, ALM works also notes that a board with 100k tickets can cause performance problems quite soon, especially if several people are working on the board simultaneously.  

The vendor recommends creating several boards with 5,000-10,000 tickets. 

 
Automatic scheduling 
Advanced Roadmaps include auto-scheduling capabilities. The Auto-scheduler constructs a plan using issue details based on your plan settings. Advanced Roadmaps considers several factors to come up with the ideal schedule for your teams: 
whether the team works in Kanban or Scrum method; 
the sprint assignments of the issues in the plan (if applicable) 
remaining capacity of the iteration 
start and end dates of issues 
issue rankings 
dependencies 
issue estimates 
 
The auto-scheduler would, for example, suggest appropriate target start and target end dates for an issue considering the planning style of a team (Kanban or Scrum), number of team members and capacity per week or sprint.  
 
As for Structure, it does not currently support the option to configure team settings.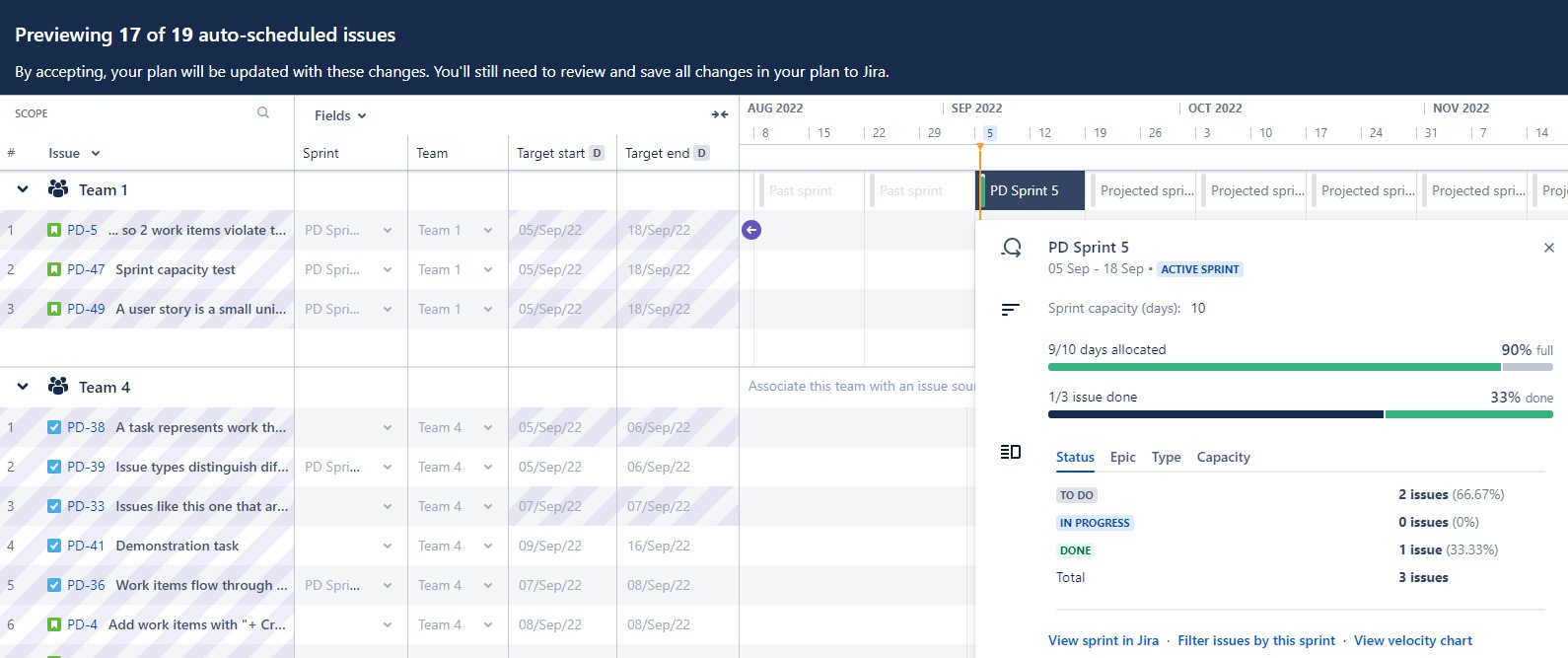 Auto-schedule in Advanced Roadmaps. The schedule bars of auto-scheduled issues and their corresponding issue details will be shown with purple stripes.


Grouping issues according to custom field values 
In Advanced Roadmaps, there is an option to add and display specific custom fields on a plan view (the exception could be fields from other plugins, such as Tempo fields).  
However, it is not possible to group issues by these custom fields.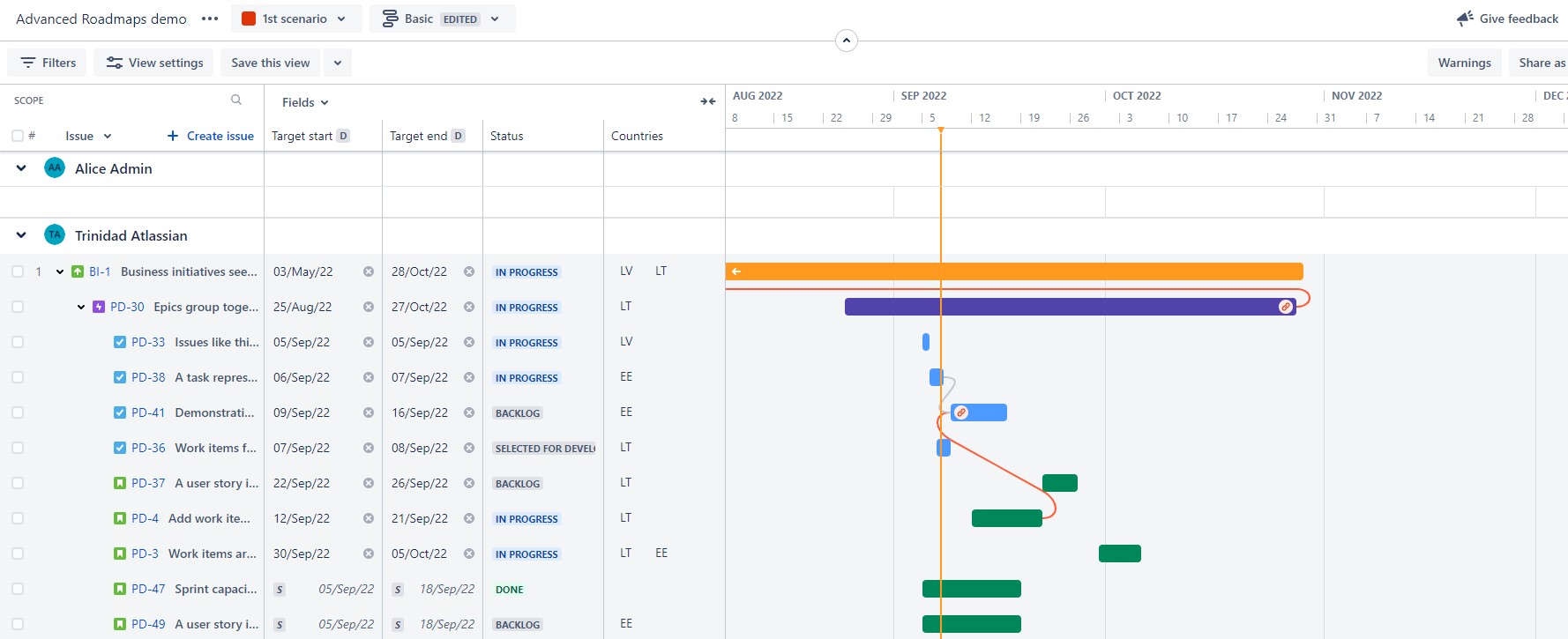 Advanced Roadmaps plan where issues are grouped by Assignee. Additionally, it is possible to group by Project, Component, Label, Release, Sprint or by Team.
Structure, on the other hand, allows ticket grouping based on specific custom fields. For example, if a project uses select list type custom fields with multiple values, you can group issues by these values on the Structure board.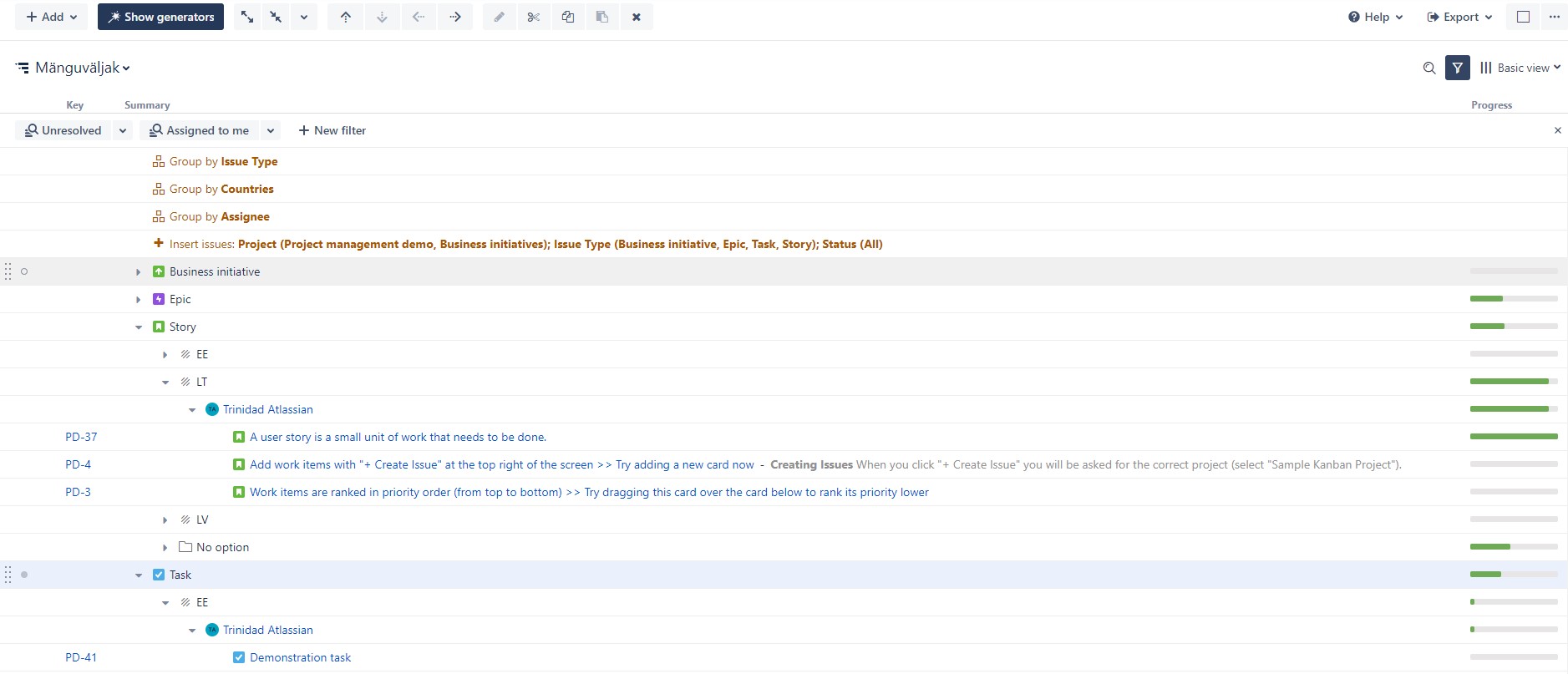 Structure board where issues are grouped by the values of a custom field Countries and further grouped by Assignee. 
UX and UI 
It would be ideal if all the applications we use would be beautiful and modern, full of smart and sophisticated functionalities and would, of course, be convenient to use. 

Unfortunately, it rarely happens (unless you design and develop yourself :P) that one software would fulfill all wishes and requests a user could have.  

However, from the user's perspective, it is understandable that if the application is being used daily, little details will start to play an important role in the user experience. 

Some functional user experience and interaction aspects we like about Structure: 
quick filters -  In essence, quick filters allow a user to activate different query results within all issues on board with one click. "Unresolved "and "Assigned to me "are some of the default quick filters.
Different queries can be added or removed as needed. 
Issue detail view – when it becomes necessary to dig deeper into certain issue details, you could just click on the issue key. A pop-up screen with an issue detail view will appear on the same board view without opening the issue detail view in a separate tab (like in Advanced Roadmaps). 
double grid view – when the project portfolio boards are related to each other, it is super convenient to work on both simultaneously on the same view. Just change to a double grid view. You can then drag items between two Structures if needed. 

Structure board in double grid mode.

Availability 
Besides many other aspects, availability and price are of the factors that will have an impact on deciding in favour of one or the other. 

Advanced Roadmap is included by default in the Jira Software Data Center product; on Cloud it is embedded in the product starting on Premium and Enterprise plans. 

Structure is also available on both Data Center and Cloud platforms but as a paid add-on.
 
Both have their advantages 
Depending on specific requirements, many other aspects must be considered when deciding in favour of one or the other. 
For starters, we recommend mapping your organization's needs for a desired project portfolio tool. Decision-making becomes smoother by testing possible solutions and set-ups within a trial product.