Atlassian Community in Estonia - a forum and community for ardent Atlassian fans
Atlassian Community is a valuable environment for users and administrators of Atlassian products. This active collaboration platform allows interested parties to share knowledge and seek support for Atlassian software tools, including Jira, Confluence, Bitbucket, and more.
In addition to the virtual forum, the Atlassian Community also exists physically. In the following interview, we get acquainted with Kerli Loopman, the leader of the Estonian Atlassian Community and an Atlassian consultant, who will tell us more about the Community and its initiatives.
Hello, Kerli and welcome to the team! You have been using Atlassian products in your daily work for many years, and in October of last year, you also started managing the Estonian branch of the Atlassian Community. How did you get into the world of Atlassian?
As part of my school internship, I worked at Enterprise Estonia (today called Joint organisation of KredEx and Enterprise Estonia), where Jira Service Management was being implemented.
I soon realized my interest in Atlassian products, and at the same time, EAS was looking for an Atlassian product owner. That's how the internship developed into a new job position.

I have created and continue creating exciting solutions for various Atlassian products and acquired an Atlassian certificate. Until the end of last year, the Atlassian Community Estonian branch did not have a leader.
A colleague's recommendation and a noticeable interest in the active Community prompted me to apply for the leader's position.
What is the Atlassian Community?
Essentially, the Atlassian Community is a forum for users of Atlassian products to share their thoughts and experiences. The platform is open to everyone - you can read posts and create new topics yourself.

In addition, the Community is divided into so-called chapters based on cities, where each town has its leader. The community manager organizes activities related to the topic and keeps the Community active.
Who is the Atlassian Community for?
The Community is for all users and interested parties of Atlassian products. So far, community events have mainly focused on admin-level users; therefore, the topics have also been quite technical.

In the future, however, participants can also expect inspirational stories, experiences, and thoughts from the end user's perspective.
How can one join the Community?
You can log in to the forum with your Atlassian user or register as a new user. To join the Tallinn community, you must register as a member on the site - ace.atlassian.com/tallinn.

By joining, you are on the events newsletter list, through which you can personally receive information about upcoming events.
Although the central city of the community is Tallinn, events can take place in other cities from time to time. English-speaking people are also welcome to become members.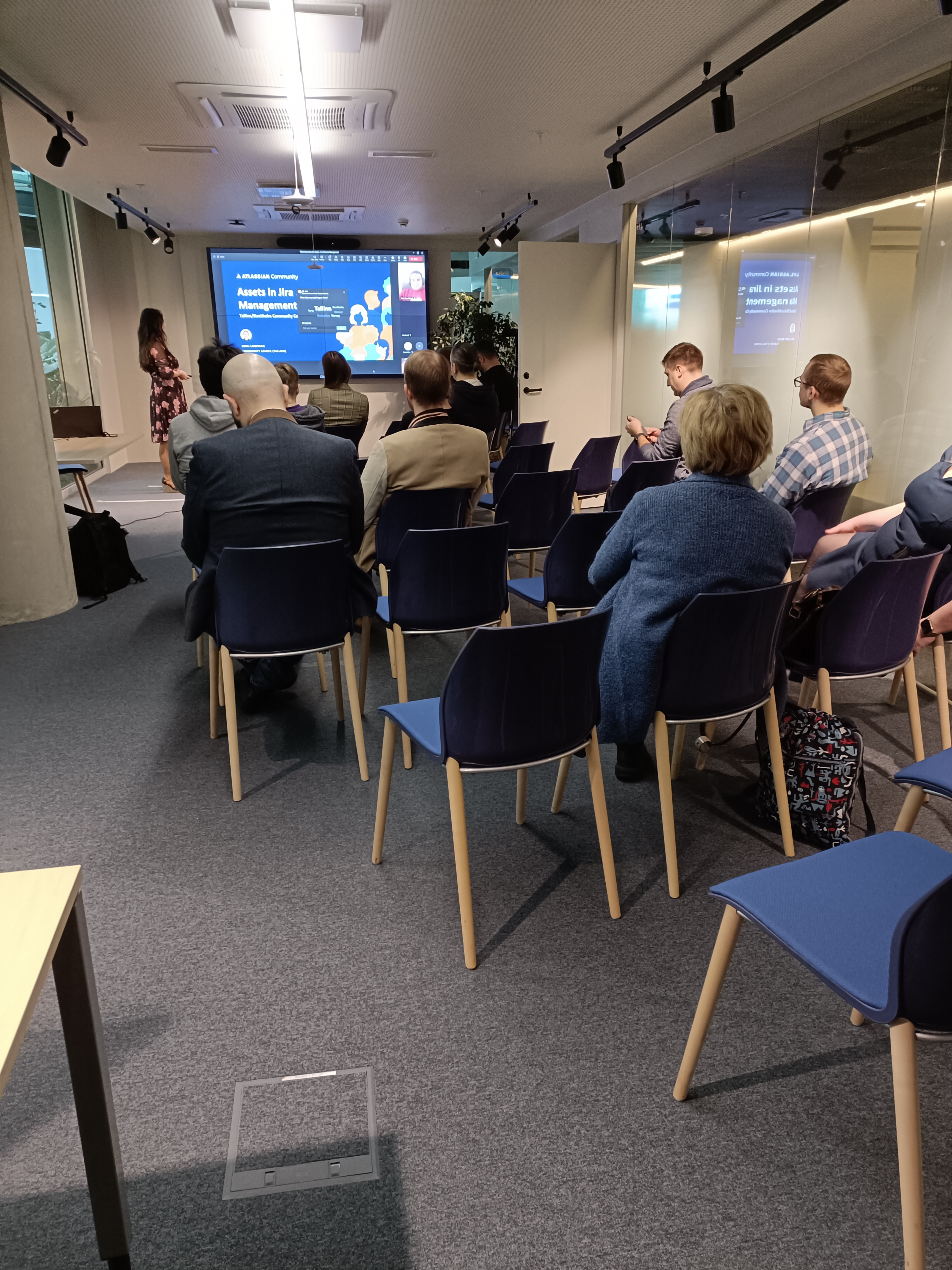 Atlassian Community event at the joint organisation of KredEx and Enterprise Estonia.
Does the person who wants to join need an Atlassian certificate to enter the Atlassian Community?
The interested party does not need an Atlassian certificate to join the Community. However, the Community is an excellent place to discuss the certification-acquiring process in the Training & Certification group.

Of course, various technical topics can also be discussed - for convenient use; the forum is divided into product-based categories.
New Atlassian users can also find the necessary information in the "Welcome Center" category. In the forum, it is possible to search for and follow topics by field of activity to draw inspiration specifically for the field of activity of your company.

Notifications can also be set up in the forum if a specific group is of more interest.
Is there a fee to be a member of the Community?
Atlassian Community membership is free - log in with your account or create a new user. On-site events are also free; they include snacks and drinks, and occasionally, there are raffles for prizes.
What can participants expect at on-site events?
Each community leader can choose whether to have only virtual or physical meetings. In Tallinn, we organize meetings in both formats.
Classically, events have one or more presenters who share their stories of experience. In the future, the plan is to organize monthly meetings in the form of a conversation, where we will discuss the latest product news and network.
New members who want to share their stories are always welcome. From time to time, you can also expect speakers from Atlassian who will talk about specific products. Sometimes, you can expect Atlassian Marketplace partners to present their product case stories.
The location of the physical event is mobile, so it is worth familiarizing yourself in advance with where exactly the meeting will take place.
When is the next event and what is the topic?
The next event will focus on Confluence and will take place at the end of August. We will announce the exact location and date soon; those interested should definitely join the newsletter.
If you feel you would like to share your experiences and thoughts with other community members, please contact Kerli on LinkedIn @Kerli Loopman or kerli.loopman@atlassiancommunity.com.