Atlas, Data Lake&Anaytics and Automation for Confluence – introducing the freshest product news from Atlassian Summit 2022
Atlassian Summit 2022 took place once again in Las Vegas and as a digital experience at the beginning of April.   
Talk topics like Agile&DevOps, ITSM, teamwork culture and open work management were intertwined with fresh and exciting product news.  
Let's take a look at what we learned!   
Atlas (beta) - teamwork directory  
Atlas equips teams with a common vocabulary to openly communicate and get a shared understanding of the context of their work.
Atlas enables every team to communicate openly and get answers to questions like:  
 
what are we doing and why?  
how's it going?  
who's working on it?  
Team alignment starts with a shared understanding of what is done, by who and why. Atlas gives every project a "homepage" providing context on the project goals and what success looks like.
Project homepage sections can display the project's status and deadline, project lead, team members, goals, related projects and smart links.
There is no more fear of missing out with the Atlas feed, as it enables us to share and stay on top of the latest updates.
Atlas feed limits status updates to 280 characters, and teams can also embed videos, images and gifs to create more engaging content.
Every Monday, users will see a personalized digest of updates on the projects and goals they have chosen to follow.
Pilt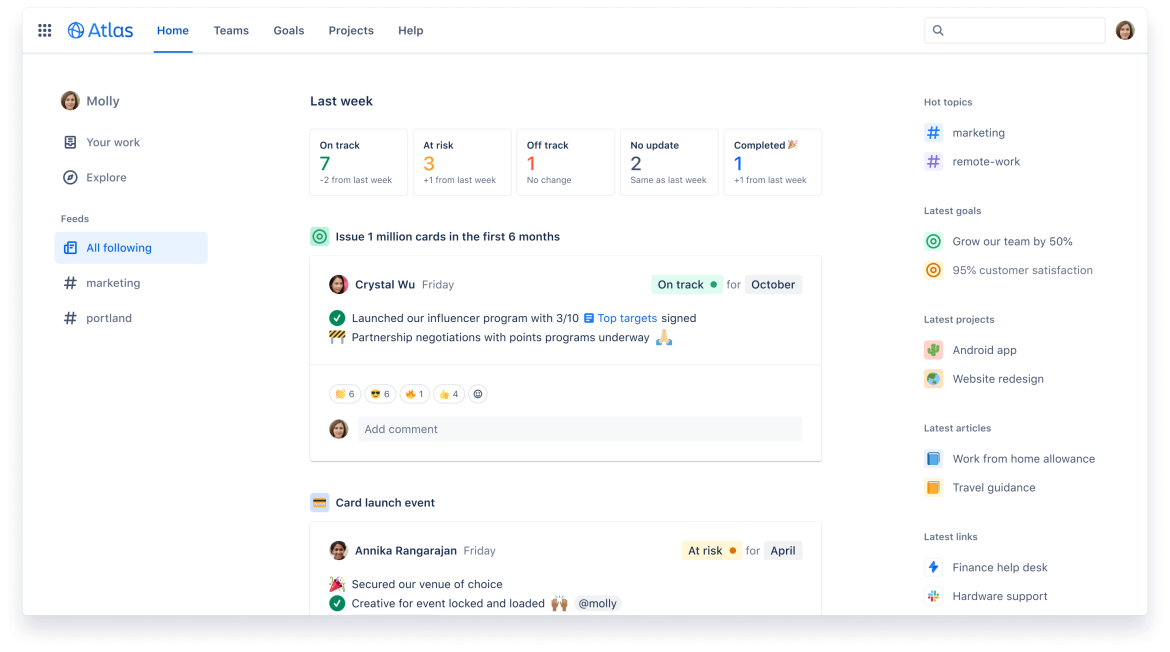 Atlas homepage.
In addition to your Atlas feed, users will get a personalized digest delivered directly to email, Slack, or Microsoft Teams at the start of every week.
Atlas syncs with popular identity providers like Okta, and every individual has their profile, which gives a snapshot of who they are, what they're working on, and how they fit in.
Team profiles provide an aggregated view of who's on the team, what they're working and where the work is happening.
Soon, you'll be able to view and post updates to projects from linked epics inside Jira Software.
Atlas has been in private beta under the name Team Central for the past year, and Atlassian is actively improving it.  
Atlassian Data Lake and Atlassian Analytics - flexible ways to access and visualize your data via SQL or no-code   
Data Lake contains cross-product and cross-instance data for easy analysis with pre-modelled and enriched fields to speed up insight generation.
It contains cross-product and cross-instance data for easy analysis with pre-modelled and enriched fields to speed up insight generation.
Atlassian has built Data Lake on the enterprise-grade trusted Atlassian platform to ensure privacy and security.
At launch, Atlassian Data Lake will include data from Jira Software and Jira Service Management. Still, Atlassian is working to bring all of the data across all Atlassian products into it.
Atlassian built Analytics using the technology from Chartio, a cloud-based visualization and analytics solution.
The seamless connection to the Atlassian Data Lake allows users to access data in a variety of ways:
Out-of-the-box interactive dashboards
For instance, leaders can get end-to-end visibility into time to market, bottlenecks, blockers, and team load across various value streams with the flow metrics dashboard.
They can even drill down to project-level data for deeper insights.
SQL visualization 
SQL visualization lets users customize their dashboards and charts with the ability to run SQL queries directly against the Atlassian Data Lake.
Pilt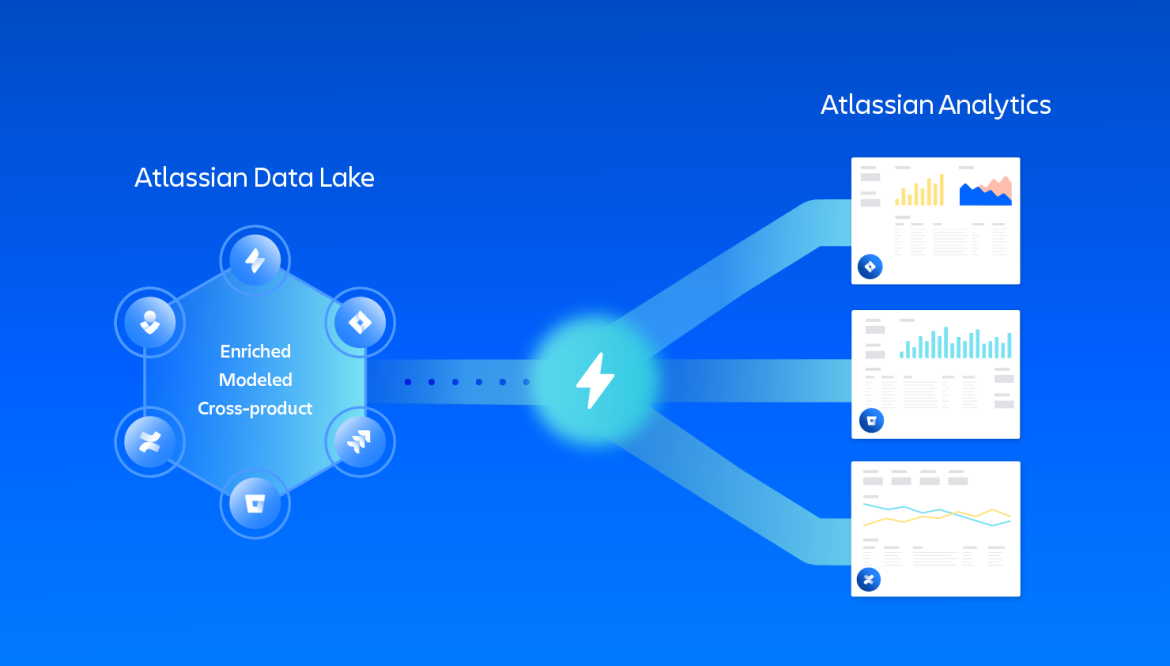 Atlassian Analytics – a simple, flexible hub that seamlessly connects to the Atlassian Data Lake and allows users to access data in a variety of ways.
No-code visualization with Visual SQL
No-code way of exploring data and creating charts for teams and users who want to build reports fast without using SQL.
For instance, teams can bring in data around stories and bugs assigned to them from Jira Software and visualize this alongside any change requests or incidents from Jira Service Management to assess what they should prioritize first.
They can visualize this data in any type of chart they like and bring the right people into the conversation by commenting directly on the chart so that you can make decisions with zero context switching.
Teams can also go back to the charts and data from the previous week to compare and understand trends with the snapshot button.
Blend in data from other sources
Data from Atlassian products only gets more powerful when combined with other business-critical data sources.
For example, you can create a report that maps revenue growth from Snowflake against engineering output from Jira Software to visualize how new features impact growth goals.
Coming soon – direct connection to external business intelligence (BI) tools
Soon, Atlassian will offer the ability to connect the Atlassian Data Lake to BI tools such as Tableau or Microsoft Power BI.
Atlassian Analytics and Data Lake are now available through an Early Access Program for current customers of the Cloud Enterprise edition of Jira Software or Jira Service Management.  
Automation for Confluence  
Automation for Confluence helps to save time and energy on repetitive tasks.
Automation for Confluence work similarly to Automation for Jira - the automation consists of a trigger, condition and action that together form an automation rule.
The first step to creating your automation rule is to create a trigger, which sets the rest of your rule in motion.
When you've selected your first trigger, you can add conditions and branches or go straight to setting up an action for your trigger.  
Pilt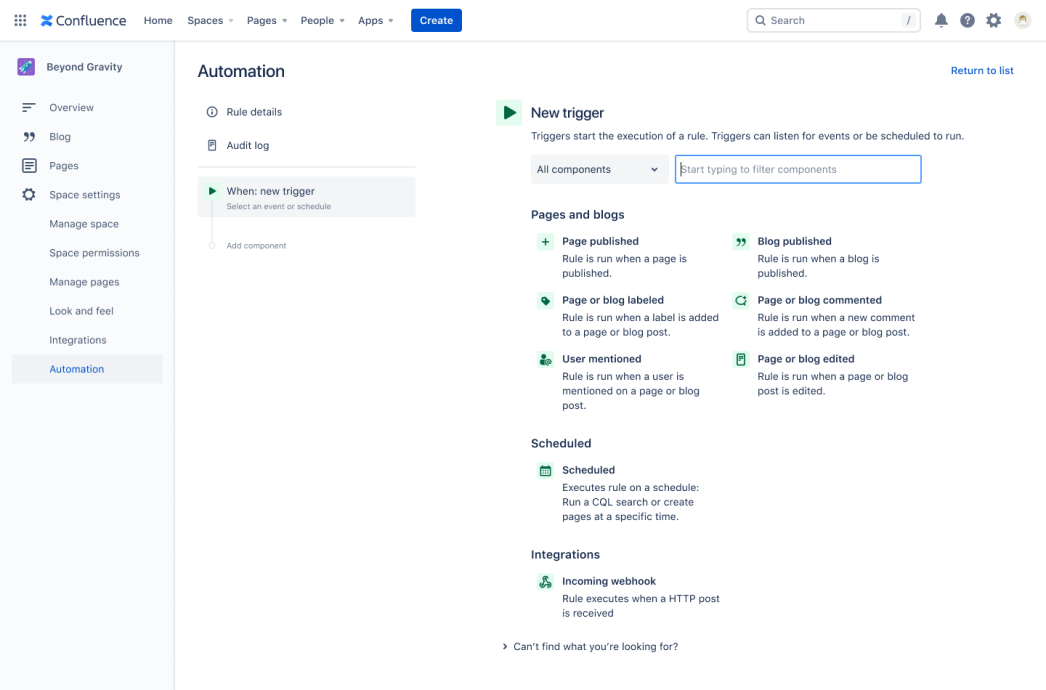 Creating an automation rule starts with choosing a trigger. 
For instance, you may want to schedule an automatic page creation for a meeting that recurs weekly, where you spend time each week manually creating the page.
As you run the rules and make changes, you can refer back to the audit log to track changes and ensure everything is still running smoothly.  
Pilt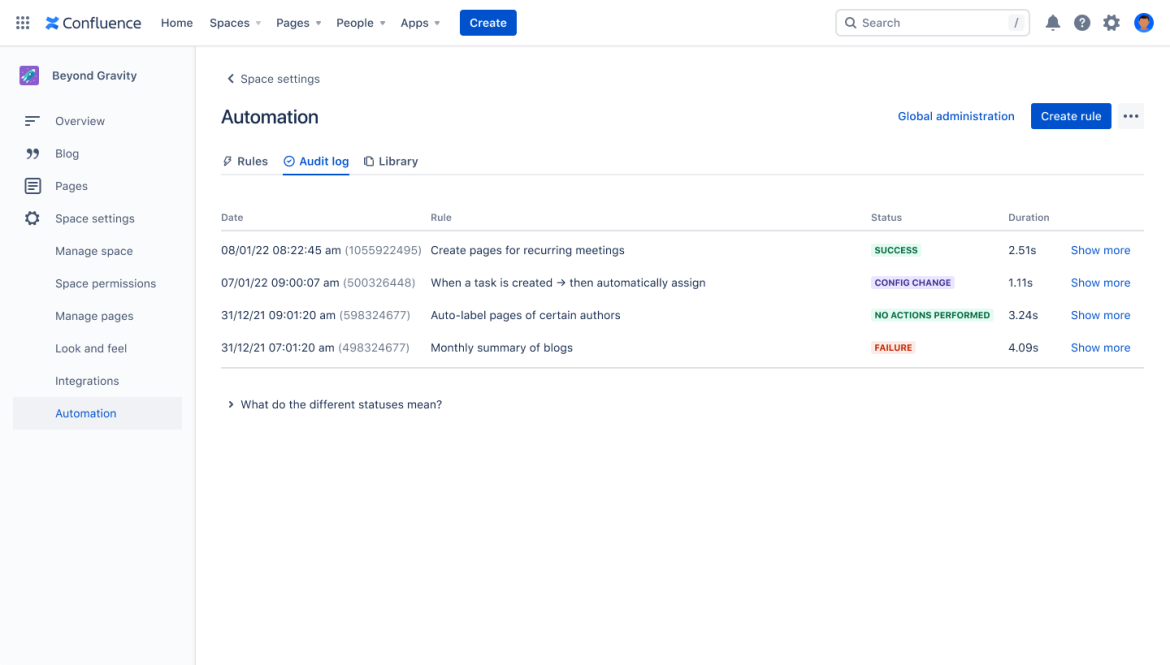 Audit log tracks changes and automation success. 
The example above is just one possible way to save time on repetitive tasks in Confluence.
To get inspired, it is worth checking out the Automation for Confluence templates; perhaps a tedious, repetitive task is already created as an automation rule for you 😊
Currently, the Automation for Confluence is available to try out on Cloud Premium and Enterprise plans. You can sign up here to try it out.    
Company-wide visibility as a foundation for efficiency  
In summary, Atlassian products continue with its mission to support organizations as a whole that want to improve continuously.
Visibility, transparency and quick access to all the essential information help all parties to work as productively as possible.