How Estonian companies redesigned their services in the COVID-19 crisis
For many companies, the COVID-19 virus has thwarted all of their plans for 2020.
The data that supported sales forecasts, marketing strategies, rental plans, and product development is no longer relevant. History has taught us that sustained long-term crises reshape both consumer and market behaviour.
Here are three Estonian brands – Kuld Artur, MyFitness and Poke Bowl, who did their best in the race to win against the pandemic. They shared their stories with us on how their businesses changed and how they found new ways to reposition themselves to meet the needs of the pandemic economy.
Kuld Artur
According to Avo Jamnes, a board member at Kuld Artur, nothing has been the same since the declaration of the state of emergency on March 12, 2020. The company has been intuitively engaging in e-commerce since 2017, feeling the push towards e-commerce even before the crisis.
However, as their revenue dropped to zero, the company had to act fast and find ways of continuing to provide their service to their existing customers as well as of reaching new customers.
So, their first step was to move the company's products to their online store www.kuldartur.ee. They also implemented other large online sales platforms, which deliver products quickly and contactlessly to the customer.
The company's social media presence was increased to keep customers up-to-date on the latest news, introduce them to new products and to have the company's representatives available in case of any questions/problems.
Overall things went smoothly, but there were, of course, some challenging tasks. The main challenge lied in creating automated interfaces between accounting, warehousing and web portals so that everything would work smoothly. There is still a long way to go, and the work is not over yet.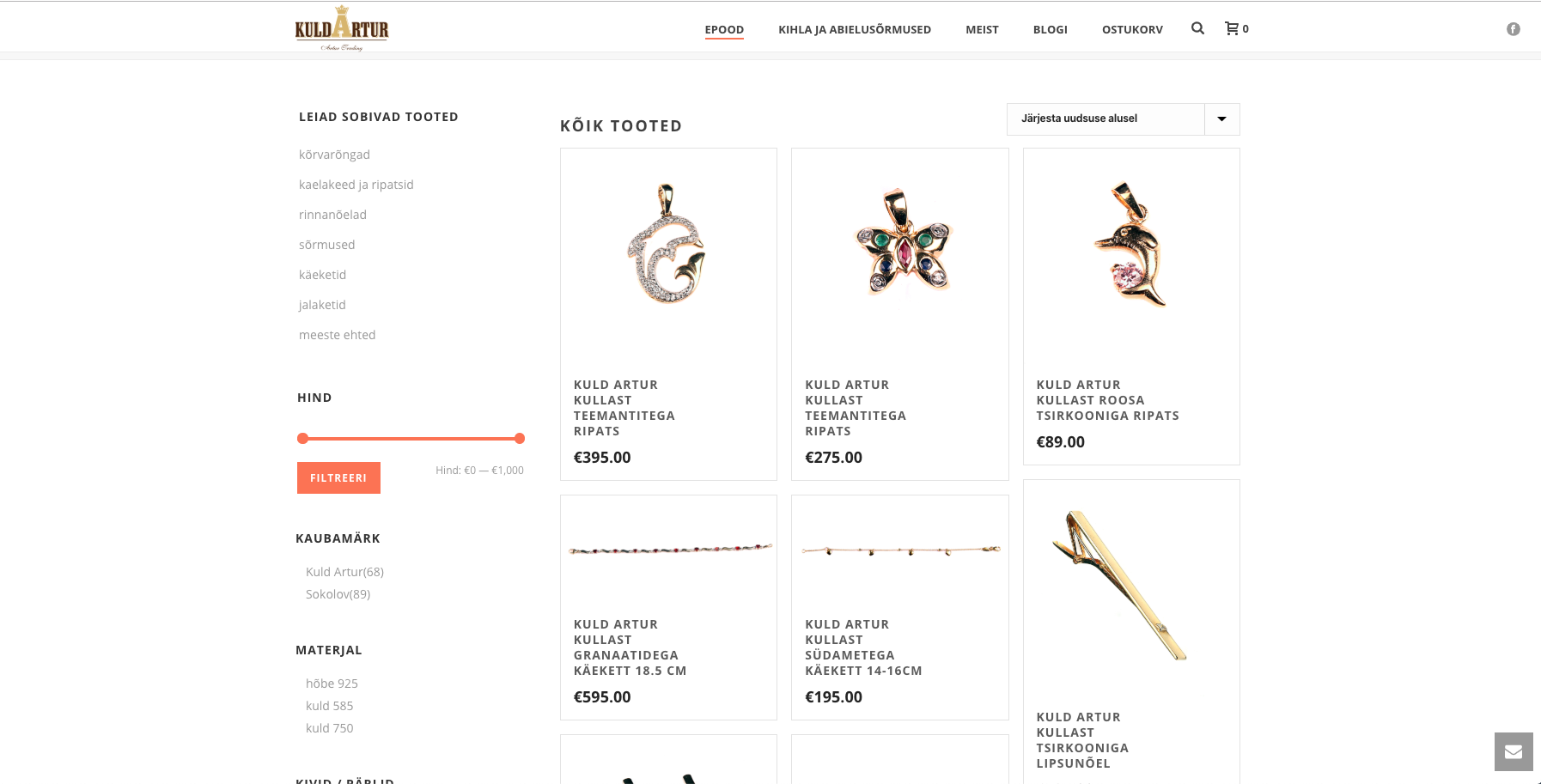 There is a lot to be done to create a better visual feel that would give the customer the most realistic picture of the product and value proposition. Kuld Artur's team is continuously looking for new ways to offer the same personal and helpful service as their retail outlet has previously allowed.
The market is competitive, and jewellery is predominantly sold at a discount, which is unfortunately unsustainable, especially given the rise in the price of gold on the world market. Kuld Artur aims to offer quality to differentiate itself from the masses.
The team is committed to fair, high-quality and transparent trade. Only those products that have undergone a careful selection process and have proven quality and value are included in the product range. Kuld Artur has been operating in the jewellery market since 1992, and it can be said that they sell trust and quality through their experience and knowledge.
Avo Jamnes' recommendation to entrepreneurs: "We should first and foremost focus on what people need in their everyday life. Deviate a bit from your main topic and try new products or services. After all, we will still always have birthdays and anniversaries. In life, positive emotions are always needed."
Poke Bowl
This crisis came very suddenly and has affected the Estonian service sector the most. According to Mikk Rajaver, the founder of Poke Bowl, autumn and winter were already tricky times for catering, and they did not have a lot of savings for the spring season.
Margins in catering are also small, which has prevented them from providing significant discounts. To survive in the new situation, they also had to adapt very quickly and find new ways of reaching their customers and promoting themselves. Hygiene requirements in the catering sector have always been of a particularly high standard.
It is natural that everyone washes their hands correctly, regularly disinfects work surfaces and tools, has cleaning tables and all the necessary chemicals. Nothing has changed in this respect as these requirements already had to be met consistently in the past.
To enable the courier service to run more smoothly and to reduce human contact, a separate table with disinfectants was set up near the entrance at the Poke Bowl premises. From there, the courier was able to grab a prepared bag without the waiter having to get in close contact with him.
The customers who ordered their food in advance were also able to use this table to pick up their food without any human contact.
The majority of Poke Bowl's customers have always preferred card payments, and during the crisis, cash payments became almost non-existent. The payments are now completely contactless and the attendant is always 2 metres away from the customer.
Poke Bowl also created a designated area near the kitchen for its suppliers. This made it possible for their suppliers to be able to bring in the goods without any human contact. Contactless inspection and digital signing for the products made everything very convenient.
During the crisis, there was always a high risk of sales falling. This fear became a reality and immediately after March 12 there were no more on-premises orders. To keep the sales up, the company had to react quickly, and the team put more emphasis on their courier service.
The majority of Poke Bowl's customers have also always preferred home delivery, and most sales were made in that way. However, most of Estonia's largest courier services took a rather large commission, which meant that the company was not left with much afterwards.
It was clear to Poke Bowl that it was necessary to be in the picture and to continue to motivate people to order their bowls. Even though everyone had raided grocery stores and stocked up on food at the beginning of the crisis, it was essential to keep going and find new ways to improve.
The company wanted to do something extra and so, every customer was given miso soup, ginger shots in each bowl and other special perks were offered as well. This all helped keep the sales coming in.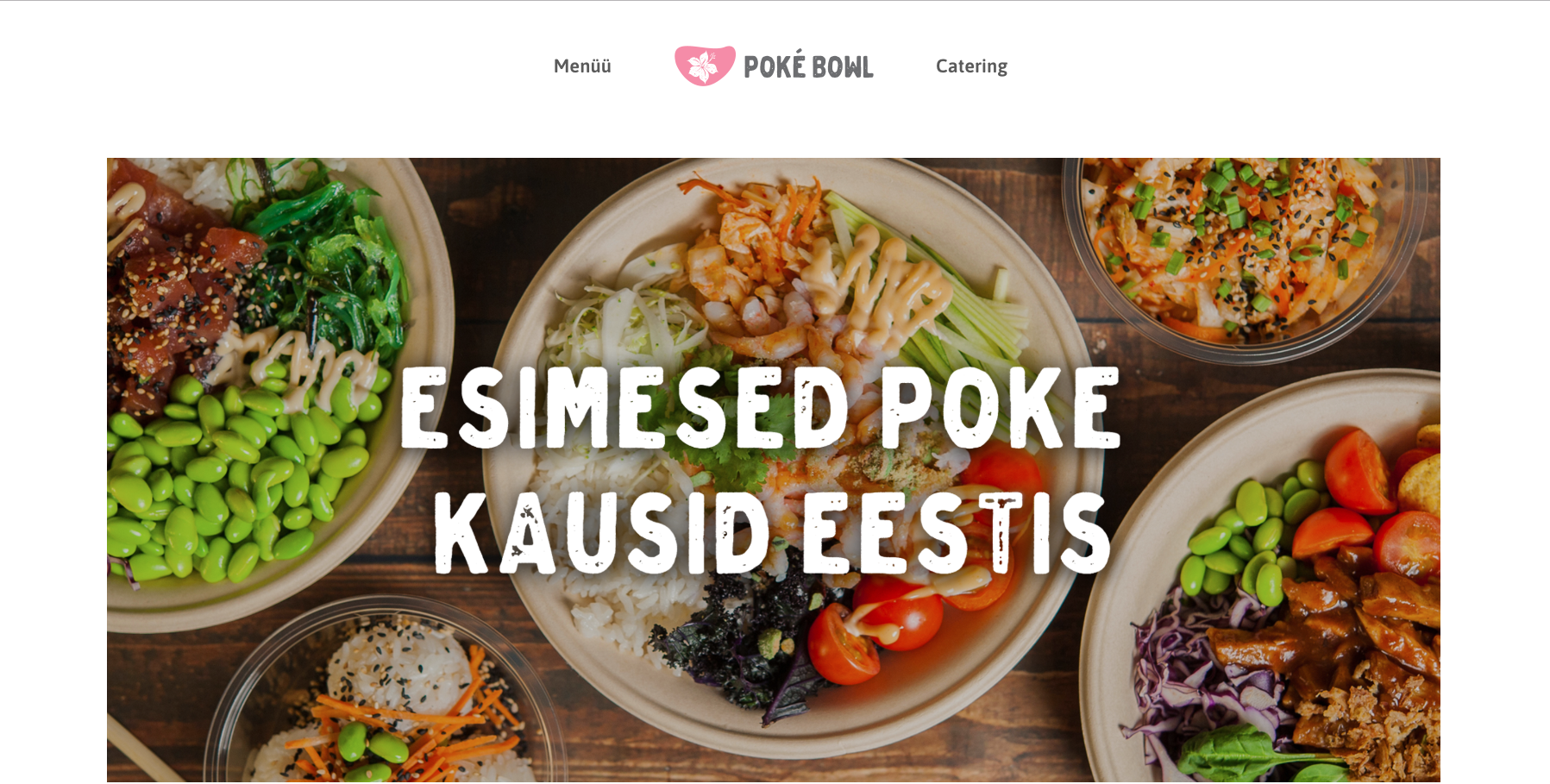 The team was extremely motivated, and they decided to go a step further and deliver the preordered lunches to different parts of the city themselves, using their own courier.
To reach customers, they used different Facebook groups (i.e. Kalamaja group, Kakumäe group and others) to post their advertisement with the menu, the date and the time when they would be in that particular area of the city. The customers were then able to place their order in the thread under the post.
This solution turned out to be very popular, especially among those further away from the city centre. This was because the people in these areas would, under normal circumstances, work in their office in the city but were now at home.
They are used to having a selection of cafes for lunch, which are near their offices. All of a sudden, there were not many choices for lunch as these residential areas do not have that many restaurants. Poke Bowl saw this as an excellent opportunity to fill the gap.
Although the whole process required a fair amount of manual order collection and additional administration, it was very cost-effective to use a designated courier. Poke Bowl received a lot of positive feedback and a fair amount of word-of-mouth advertising.
Of course, there was a small risk that the people who made an order in advance would not show up and therefore, the company would not receive their payment. Luckily, however, this only happened a few times. Although sales announcements are usually not allowed nor very popular in these regional groups, the group administrators were kind enough to make exceptions during the COVID-19 crisis.
Other catering businesses and innovators have also been actively looking for new ways to offer their services. A new competitor to the Wolt / Bolt courier entered the market. This new service is called Nosi.ee and it enables you to order food from different eateries. These restaurants can use their staff, who are available at the time, to deliver the food. The commission is much lower for restaurants, and they can use their employees who would not otherwise be able to work during quieter times.
Mikk Rajaver's recommendation to entrepreneurs: "I would recommend being flexible and innovative, changing your business model, even if it is just temporarily. Keep up with the changing times.

When the market situation changes, you have to offer the exact service and product that is relevant at the moment. This helps you reach your customer in new ways. Everyone still needs the same amount of food."
MyFitness
According to Karin Maandi, MyFitness' Estonian Marketing Manager, MyFitness received just a two-day notice before they had to close their clubs. The clubs were closed on March 15, and two days later, the online training environment NETFIT was launched. The new environment allowed everyone to continue training with their favourite trainers.
Every week, there are live training classes, which could also be watched a few days later. NETFIT also has an impressive pre-recorded training video bank, which is accessible to everyone. With the creation of an online training environment, training became available to those who previously could not use MyFitness' services for various reasons. Now, all of this training material is available for everyone, and it's free.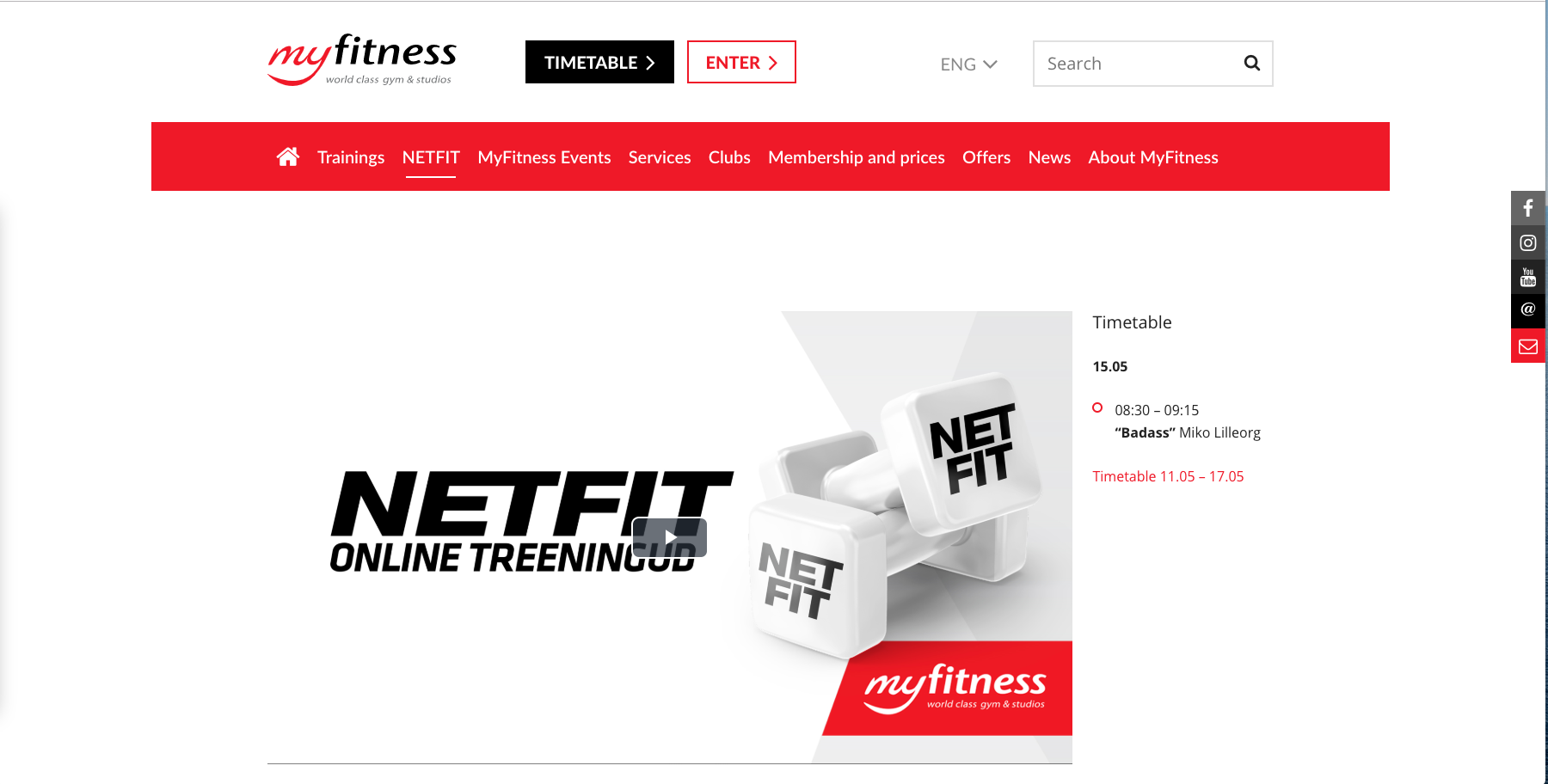 Customers were delighted with the new solution, and the company received a lot of positive feedback and free advertising :). MyFitness was especially praised for helping Estonians keep a positive mindset with the help of exercise during difficult times. It was great that they created such an opportunity for their members but also for anyone interested in keeping fit and active during the crisis.
The ideas did not stop here, and the activities were not limited to just the training videos. The whole concept was quickly developed further and new ideas were born. One of these was live broadcasts, which were done in parallel on both NETFIT and Facebook live. During each broadcast, various topics related to health, nutrition and training were discussed with a coach, a nutritionist and other guests.
The biggest challenge for MyFitness was having to IMMEDIATELY create something that would keep and maintain the connection between MyFitness and their members as MyFitness has become a lifestyle for their members. They created a whole new opportunity for all parties involved with the online training classes, and it just so happens to be completely contactless. 😊
 Karin Maandi's recommendation to entrepreneurs: "I always recommend welcoming changes, trusting where life takes you. Even if a new direction takes you out of your comfort zone, change often favors adaptation and provides inspiration. And all of this can create a new business addition to your core business. "
We hope that the stories of our Estonian brands have inspired you and given you the courage to take the first steps! 😊
Online commerce as a whole is growing and so is the consumption of web services. Nothing is the same as before, and it is likely that this pattern of buying goods and services will continue to be common for many consumers in the future. This means that the ordering of goods and services via the Internet will continue to increase.